Get low-cost diploma in Electronics & Electrical from Singapore – Allians College
Allians International College, Singapore Offers Low Cost Fees Diploma Courses Part-Time for Electrical & Electronics Engineering student's who are having job commitment and need part time schedules to upgrade their skills.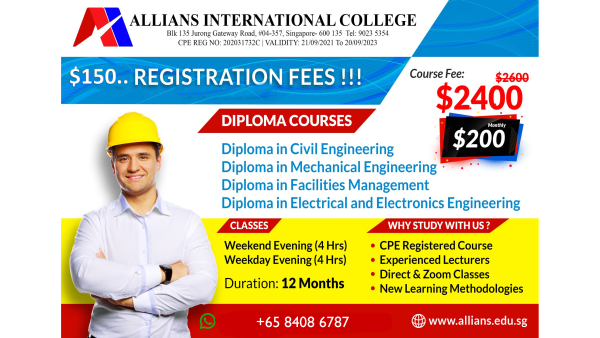 Allians International College Singapore Empowering Learners for a Dynamic Future. Its is dedicated to providing education services to a diverse range of individuals, including Singaporean citizens, permanent residents, and valid work pass holders aged 16 and above. Their core mission is to offer a variety of educational programs, both full-time and part-time, designed to empower students by enhancing their career prospects and skill sets.
Allians College Singapore aspire to be an esteemed education institution that serves as a platform for learners to acquire the dynamic employability skills needed for success in the ever-evolving job market. With clear mission: to prepare the students with the knowledge and skills necessary to pursue career opportunities in various industries, equipping them to meet the demands of the modern workforce. Core Values: Commitment – Integrity – Resoluteness – Responsibility
Allians Diploma in Electrical and Electronics Engineering
Course would enhance learners with skills to develop their opportunities in the various industries like telecommunication, electronic, built environment especially in the Building Maintenance, competent in performing electrical works, energy management and set up effective maintenance program and procedures.
Syllabus covers the following modules: electrical circuit theory, electrical machines and design, power systems engineering, basics of electronics, electrical and instrumentation engineering, engineering management and technology.
Allians also offers Diploma in Facilities Management: The Facilities Management program will equip students with basic technical knowledge and facilities Management function skills that develop their opportunities in the built environment especially in the maintenance of the facilities equipment and services for the building. The program is developed to make learners competent in performing maintenance works, facilities management and set up effective maintenance program and procedures.
Syllabus covers the following modules: introduction to facilities management, building electrical services, sustainable practice and environmental management, fire safety management, building defects management, facilities for equipment and management
Diploma in Mechanical Engineering: This Program is to equip the students with the set of technical Skills and Knowledge to meet the industry demands. The course curriculum is designed and planned to carry out technical support functions in mechanical engineering design, production, quality assurance, workshop technology and Engineering management and technology, which enables learners to support in the optimum productivity and meet the dynamic industry.
Syllabus covers the following modules: strength of materials, metrology and quality control, ThermoFluid's, machine design and build process, workshop technology, engineering management and technology
Diploma in Civil Engineering: The course introduces students with essential Civil Engineering knowledge and skills that required for the today Singapore construction projects. Also, the course focus on local site practices, design & build, construction technology and materials. Upon completion of this course, students shall be eligible for the perform the junior engineer level job roles such as assistant engineer, site coordinator, assistance project engineer, project coordinator and so on.
Syllabus covers the following modules: Introduction to Construction Design, Analytical Method for Construction Engineers, Computer Aided Design in Civil Engineering, Construction Practices and Materials, Construction Technology, Structural Elements.
Facilities @ ALLIANS INTERNATIONAL COLLEGE SINGAPORE
There are 1 Administrative office and 1 Class room. Class room 1 with the seating capacity of 5 students. Floor area 8.6 square meters. And 1 Administrative office with floor area 7.7 square meters. All the rooms are fully Air-conditioned and provided with writing tables for each student. The classrooms have a white board to teach the students.
Allians International Collage (YouTube Channel)
Contact Address:
Blk 135 Jurong Gateway Road #04-357, Singapore- 600 135
Call Or WhatsApp: +65-8408-6787 for Booking & Evaluation
Media Contact
Company Name: Synergy Global Enterprise LLC
Contact Person: Gopi Divecha
Email: Send Email
Phone: +65-9181-7041
Address:111 North Bridge Road #21-01 Peninsula Plaza
Country: Singapore
Website: www.pixelproducttion.com