Artificial Intelligence Market Growth in the UK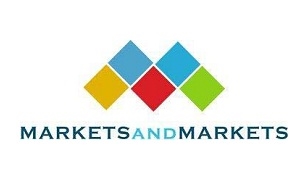 To analyze competitive developments, such as mergers and acquisitions, product developments, and research and development (R & D) activities, in the market.
Artificial Intelligence (AI) Market by Offering (Hardware, Software), Technology (ML (Deep Learning (LLM, Transformers (GPT 1, 2, 3, 4)), NLP, Computer Vision), Business Function, Vertical, and Region – Global Forecast to 2030
UK's AI leadership and innovation drive economic growth.
The United Kingdom has established itself as a global leader in the field of Artificial Intelligence (AI), having a vibrant research and innovation sector that continually pushes the boundaries of AI development. However, while the UK's AI sector is renowned for its cutting-edge work, it's important to note that AI's adoption and application across industries are still in relatively early stages, with varying levels of maturity depending on the sector. In fact, many sectors, including manufacturing, have yet to fully capitalize on the potential of AI. A recent survey conducted by Capital Economics revealed that only around 17% of manufacturing companies have adopted AI, with even lower adoption rates in sectors like retail and hospitality, at just 12%. In contrast, the finance and legal sectors lead the way, with nearly 30% AI adoption. Despite these disparities, the pace at which AI is advancing is exponential.
Download PDF Brochure @ https://www.marketsandmarkets.com/pdfdownloadNew.asp?id=74851580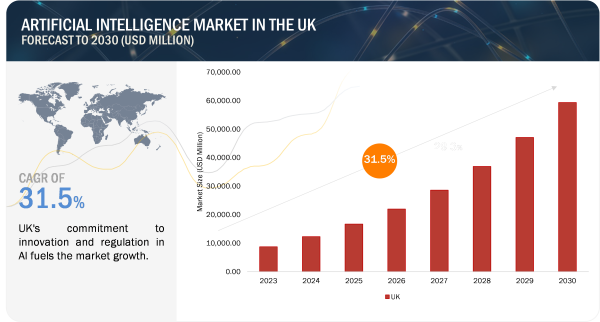 Source: Interviews with Experts, Whitepapers, MarketsandMarkets Analysis
The accelerated development and adoption of AI are expected to have a significant impact on the global economy. It is projected that by 2030, global GDP could increase by up to 14% due to the widespread integration of AI technologies. In light of this potential, the UK has unveiled a National AI Strategy, which focuses on aligning government efforts to identify strategic challenges that can benefit from AI solutions. A key priority is the development of a comprehensive "all-of-government approach to international AI activity," as outlined in the AI Action Plan. While the plan outlines several initiatives, many appear to be developed in isolation within individual government departments, missing opportunities for synergy and collaboration across various sectors and policy domains.
AI regulation is another crucial aspect of the UK's AI landscape. The government is adopting an iterative and flexible approach to AI regulation, and the Office for Artificial Intelligence is expected to publish a white paper detailing the country's stance on AI risks and harms, along with regulatory solutions.
Request Sample Pages @ https://www.marketsandmarkets.com/requestsampleNew.asp?id=74851580
The UK is actively engaging on the global stage as well, hosting the inaugural global AI Safety Summit in November 2023 to promote international collaboration in advancing AI technology safety. Furthermore, the government is reaching out to international partners to explore the use of AI for aiding developing countries, emphasizing the potential of AI in addressing global challenges. This commitment is exemplified by a USD 1.2 million investment in a Complex Risk Analytics Fund, which leverages the power of AI to prevent crises before they occur, respond to emergencies in real-time, and assist countries in their recovery efforts. The UK's multifaceted approach to AI, from fostering innovation to international collaboration and humanitarian support, underlines its dedication to harnessing the transformative potential of artificial intelligence for the betterment of society and the global community.
Media Contact
Company Name: MarketsandMarkets™ Research Private Ltd.
Contact Person: Mr. Aashish Mehra
Email: Send Email
Phone: 18886006441
Address:630 Dundee Road Suite 430
City: Northbrook
State: IL 60062
Country: United States
Website: https://www.marketsandmarkets.com/Market-Reports/artificial-intelligence-market-74851580.html