Damn Futurism: A Journey Beyond the Norms with E-uphoria (Alessia Moccia)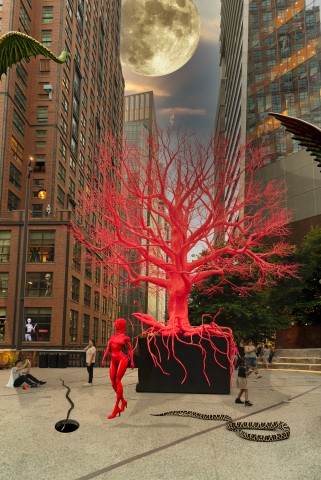 Damn Futurism, a portal to another dimension conceived and crafted by the visionary E-uphoria, aka Alessia Moccia, into a world where the ordinary flips into the extraordinary, where speed, audacity, movement, and fresh perspectives come alive in vivid hues.
The DAMN FUTURISM art Show is not just exploring an exhibit but also traversing E-uphoria's personal journey—from the historical richness of Italy to the vibrant streets of Miami and, now, the iconic landscapes of New York.
Special guests of the exhibition are Pamela Lubell with her Trigger Helmets and Motomitchi Nakamura.
The exhibit celebrates the bold audacity of Italian Futurism, exalting speed, dynamism, and the power of change. But with a twist—aliens. Not our typical extraterrestrial being, but female aliens with unusual fingers, settling amidst the urban jungle of NYC.
Now, you may wonder, why aliens? "For me, Alessia says, aliens represent purity, untamed and undiluted by societal norms. They're transparent souls that resonate with the essence of authenticity, embodying the spirit of those who dare to be different.
A pivotal part of this collection is the "Damn Helmets" collection which stands out as a unique collaboration with the based New York artist Pamela Lubell, an accomplished movie producer and creative designer. Pamela produced over 80 movie posters, and in 1996, she and her team won the prestigious Key Art Award for the best movie poster of the year, 'Pulp Fiction.' Some other posters include Clerks, High Heels, The Piano, and The Crying Game, to name a few… Pamela's hand-crafted sculptures are not mere art pieces; they symbolize shields against mental manipulation, power abuse, and harassment. These helmets resonate deeply with the overarching theme of resilience and self-preservation that echoes throughout the exhibition.
The collaboration is extended with the director Francesca Ferretti, who creatively splashed her vision on the photos. A third layer that leads us to a retro, nostalgic, fun, and inspiring vision.
As you meander through the exhibit, a striking motif may catch you: the vivid red eyes, a hallmark signature of artist Motomichi Nakamura. These eyes embody the pulsating dynamism and rapid progress synonymous with Italian Futurism's portrayal of industrial cities.
As you traverse this exhibit, from "Damn Alien" to "Damn Helmets," know that you're stepping into a realm that's not just fantasy.
Dive deep into the "Damn Ocean Drive" or stroll through "Dam(a)nhattan". Here's to celebrating the extraordinary within and around us. Let's embrace the 'damn' fantastic universe of E-uphoria!
Media Contact
Company Name: PrimopianoTv Florida Inc.
Contact Person: Andrea Angioli
Email: Send Email
Country: United States
Website: www.e-uphoria.com