More Life Recovery Center to sponsor Mike G. Mitchell's Play "Life is What You Make It"
"Life is What You Make It" is a play about one individual's experience inside the American prison system.
It has been less than two years since actor and writer Michael G. Mitchell was released from prison. The Plainfield Performing Arts Center will host a performance of his play, Life Is What You Make It, on October 29, from 5 pm to 7 pm. His life experiences will be included in the theatrical presentation. More Life Recovery Center will be sponsoring him and the stage play that he is producing.
The play will mark his 2nd anniversary of being released from prison. The sponsor of the play, More Life Recovery Center is dedicated to supporting long-term recovery and maintaining it in the long run. They offer outpatient treatments in a cosy, customized environment where they will feel perfectly at home. Their objective is to offer each person the best chance for healing possible in a setting where they feel comfortable, enabling each client they assist in opening doors to new opportunities, and fostering a sense of optimism and possibility. More Life Recovery combines several methods to aid people in overcoming addiction and is a family-focused therapy centre.
Kenny Sass, President of More Life Recovery Center, said, "Life is a winding road, and only the people who can adapt to changes can survive. As President and a now-positive product of my challenging upbringing, I take pride in giving back by providing brilliant people like Michael Mitchell opportunities because those are rare and far between where we come from".
The stage play has been written and directed by Michael G. Mitchell, who is also starring along with Instagram influencer Big Brody. Mike and Jamar Williamson, also known as Big Brody, have been friends since childhood.
The ticket is priced at $20. People can book the ticket at: https://www.eventbrite.com/e/life-is-what-you-make-it-tickets-408926870277
An all-black masquerade mixer will happen before the show starts. It will consist of an hour of red-carpet activities like clicking pictures, interviewing the attendees, networking, and so on.
About More Life Recovery Center.
The More Life Recovery Center is committed to fostering long-term healing. They provide outpatient therapies in a welcoming, personalized setting where patients will feel completely at home. Their goal is to give each person the best chance for healing in a place where they feel at ease.
For more details, visit: https://moreliferecoverycenter.com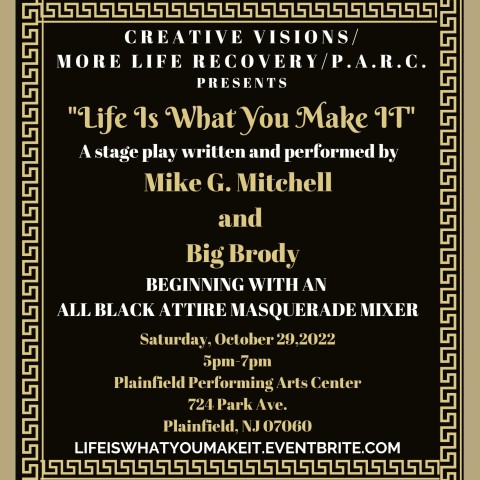 Media Contact
Company Name: More Life Recovery Center
Contact Person: Kenny Sass
Email: Send Email
City: Metuchen
State: New Jersey
Country: United States
Website: moreliferecoverycenter.com