100% online, fully-accredited – the Doctor of Business Administration (DBA) degree from GAMBIT Business School
Business professionals who want to advance their careers can now jump-start their doctoral programs with a fully accredited DBA from GAMBIT Business School.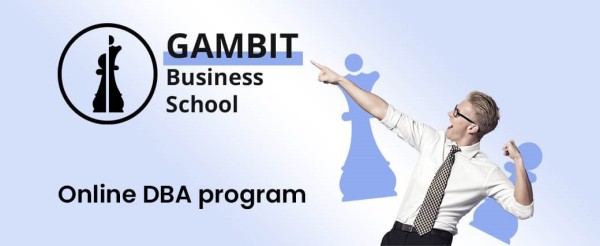 The Doctor of Business Administration (DBA) is a degree for professionals who want to develop their skills, advance their careers and make a difference in the world. GAMBIT Business School offers a DBA with a total immersion in business and management, taught by leading academics from around the world. It is delivered in English and open to students from around the world. The program is 100 percent online, and students can earn their degree in less than three years. The program also offers support for working professionals; students can earn their degrees while continuing to work full time.
DBA (Doctor of Business Administration) is a unique executive program that teaches students to combine theoretical knowledge with practical skills. This new degree can become an attractive professional option for those who want to develop management skills and strengthen their qualifications in order to reach managerial positions at the highest levels. In addition, the DBA degree program is designed for high-level executives who want to develop their leadership capabilities, gain new perspectives, and improve their skills.
A new study of business executives who hold doctorate business degrees (DBAs) shows that an online, accelerated program can propel graduates to the top salary ranges and long, successful careers. In addition, the study notes that an online DBA can be a key part of a graduate's career advancement.
A GAMBIT Doctoral Business Administration (DBA) offers the highest level of business education and is a ticket to the top for executives seeking to differentiate themselves in the marketplace. The DBA program will help you develop leadership skills, gain a thorough understanding of your industry, and enhance your career prospects. Teaching, consulting, and research are the most popular career paths for someone with a DBA; salaries are typically in the six-figure range.
Advantages of an online DBA program
An online Doctorate in Business Administration (DBA) is a terminal degree program that brings you a step closer to your professional ambitions. The advanced degree offers numerous advantages:
Learn more about modern business management
Qualify for the highest positions
Shape the direction of business education and research
Develop extensive practical and professional skills
GAMBIT DBA graduates can conduct real-world, business-centric research applicable to all industries and countries. The DBA program at GAMBIT Business School was created with the goal of providing students with a deep understanding of business, economics, and finance. Students are taught how to structure a project from the beginning to its completion to achieve valid and accurate findings. Students will also develop their dissertation on an original research topic under the supervision of GAMBIT's experienced faculty, who are recognized leaders in their respective fields or industries.

About the GAMBIT DBA program
The program is delivered entirely online and can be completed in as little as 36 months. The DBA program comprises 14 core courses and 12 optional courses that allow students to specialize in areas such as finance and accounting, human resources management, and marketing. Students can start at any time and graduate as soon as they complete all the coursework and a doctoral research project.
GAMBIT DBA program aims to develop the future leaders of tomorrow by providing them with the skills and knowledge they can make informed business decisions, confidently lead peers and employees, and develop strategies to successfully address the challenging business environment. The International Qualification and Certification Center (IQaCC) in London has accredited GAMBIT Business School as an institution qualified to deliver the Doctoral of Business Administration degree.
The idea of "Learning by Doing" is one of the core values of GAMBIT Business School. This principle is at the heart of the research projects that students are required to complete to graduate from the program instead of a standard doctoral dissertation. A research project aims to create a real-life impact by allowing students to put their theories to the test through research and analysis. It also offers students an opportunity to work alongside experts in their fields who help them with the research methodology and strategy.
The Online Doctoral Business Administration (DBA) program at GAMBIT Business School offers an alternative to the traditional approach to getting a doctorate. The program is held 100% online, making it accessible to applicants with busy lives who are looking for both flexibility and quality. With their affordable entry requirements (MBA degree with a year of experience or a bachelor's degree with three years of experience) and low fees, GAMBIT aims to make the DBA program accessible to the broadest range of people from different backgrounds.
Students who are interested in attending the Online DBA program at GAMBIT Business School can fill out an application form online or fast-track their enrollment by paying for the program and providing necessary documents at a later date.
Conclusion
Are you a business professional who wants to advance your career? Do you want to gain valuable leadership skills? If so, a Doctor of Business Administration (DBA) from GAMBIT Business School might be right for you. The 100 percent online format offers flexibility, affordability, and convenience for people who want to build a career in business.
Media Contact
Company Name: GAMBIT Business School
Contact Person: Robbie Norton
Email: Send Email
Country: United Kingdom
Website: www.gambit.education/