ZT Club talks to Peter Thai, Chief Marketing Officer of Luffy Token: A vision of Luffy's value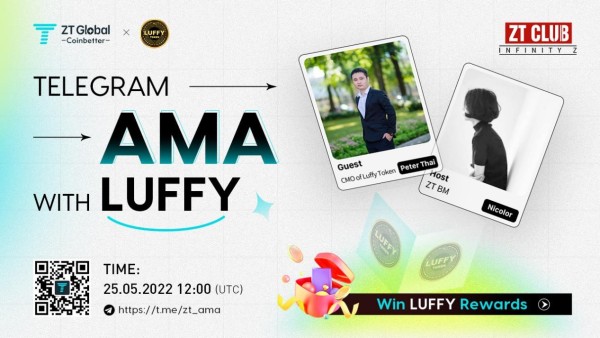 According to the Newzoo report, the global gaming market harvested $175.8 billion in revenue from consumers in 2021, driven by nearly 3 billion players worldwide, the vast majority of which came from Japanese teams. How to break the existing pattern of the animation industry to monetize artists' artworks and give artists in the animation industry the opportunity to create wealth value through their art is the focus of the current hot debate in the NFT market in the crypto field, among which, the performance of Luffy Token is particularly remarkable.
On May 25th at 12:00 Singapore time, Peter Thai, Chief Marketing Officer of Luffy Token, came to ZT Club to share Luffy with users and look at the vision of Luffy's value.
At the beginning of the live broadcast, Peter Thai first gave an introduction to the fundamentals of Luffy, the world's first anime token, founded in August 2021. Luffy is creating a modern tool, advanced DeFi platform, education, P2E games, metaverse and world-class artwork for investors and fans through safe and exciting space and help low-income anime and manga artists. Luffy is building a complete ecosystem for investors and fans.
NFT Marketplace: the world's first NFT marketplace for anime and manga related digital art;
Land of Kai: 3D open world P2E game that works with Kainet tokens; Crypto Academy: a crypto related online academy where students earn income by learning;
Anime Masks: an advanced DeFi multi-chain platform for buying crypto, equity, etc.;
Anime Swap: create and manage your wallet on the ethereum blockchain;
Anime Dext: a powerful token charting network platform with unique security features;
Anime Metaverse: VR events where users can participate in multiple activities on the multiverse;
Luffy Blockchain: a protocol for building and connecting all meme and anime tokens.
When asked how Luffy maintains a high quality of community activity, Peter Thai exclaimed, "We don't lie to the community, we over-deliver on our promises, and we host events for the community to reward users."
Then Peter Thai introduced the key products of Luffy's layout in the next 6-12 months:
1. Hedge funds: in progress;
2. NFT Marketplace: back-end complete; audited by Certik; working on UI/UX;
3、Anime DEXT: in progress;
4、Land of Kai: alpha version has been released, final version (3D RPG P2E) will be launched at the end of this year, the game is built with Kainet. Luffy and Kainet tokens will be used in the game
5. Anime Metaverse: in progress;
6. Crypto Academy: in progress;
7. Anime Swap: in progress;
8. Cross-chain Bridge: completed;
9. Tokyo Event: completed;
10. Cooperation with other companies: We have entered into a partnership with shopping.io, which allows users to use Luffy Token to make payments on Amazon, eBay, Walmart and Home Depot. We have also cooperated Guardarian, which allows users to buy Luffy Token using Visa, Mastercard, SEPA, SWIFT and Faster Payments. We will also cooperate with Tokyo Lovehotels, WOMB, 1 OAK, to hold international events.
11. Luffy in terms of exchange listings: it is planned to be listed on 20 CEXs, at the end of May, it will be listed on 17 CEXs, and is currently working with other primary exchanges and expects to be listed in the third or fourth quarter of this year;
12. 100.000 holders, currently 20,000 (estimated);
13. 150.000 Twitter followers, currently 61.7k;
Investors can buy on Uniswap, Pancakeswap (which requires bridging before transferring to an exchange) or on CEX, and Luffy is currently live on ZT, so keep an eye out for more.
At the end, Peter Thai introduced the ways to earn Luffy tokens. Users can get Luffy by following Luffy's social media, turning on notifications, participating in shill contests, taking part in AMA or trading contests, etc.
From Peter's series of introduction to Luffy, we can see that the official team is in the middle of methodical implementation according to the planned ecological map, and we expect Luffy will have a place in the field of Anime Token.
Introduction of ZT Club
ZT Club is an independently operated media integrated service platform and club under ZT Global.
ZT Club mainly focuses on project incubation, community integration, activity expansion, industry education and other blockchain-related content integration. It is committed to promoting the prosperous development of the blockchain industry and building the industry ecology together. Since the beginning of the broadcast, we have invited many famous industry experts, new blockchain projects, capital institutions, hot communities and other guests and successfully carried out many live sharing sessions.
In the future, we will continue to bring you new traffic, new resources and new ways to play blockchain in the form of voice, video and audio from time to time.
Media Contact
Company Name: ZT Club
Contact Person: Zoe
Email: Send Email
Country: Singapore
Website: coinbetter.com