Soeleish Phoenix Magazine Announces Ashley Wagner as the #1 Makeup Artist In Arizona For 2022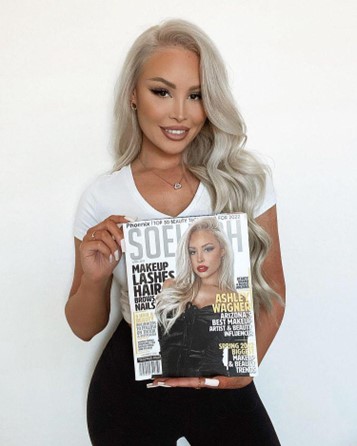 Soeleish Phoenix Magazine has released its much-anticipated Beauty Magazine for 2022. The giant publication company announces Ashley Wagner as the #1 makeup artist in Arizona for 2022.
Soeleish Phoenix Magazine is a one-of-a-kind magazine. SPM is the first magazine dedicated to Arizona's small business owners and entrepreneurs. Its purpose is to recognize the efforts and successes of Arizona's small business entrepreneurs. SPM is a monthly magazine that covers business, lifestyle, information, and technology. Soeleish Phoenix Monthly is one of Arizona's most popular magazine publishers.
Ashley Wagner is a self-taught makeup artist from Socal with 11 years of experience in the makeup & wedding industry. Ashley moved to Arizona in October 2019 to expand and grow in a new environment with fresh opportunities. Ashley graduated from Cal State Fullerton with a degree in Business Marketing. During her college experience, she started her own brand, TIME LA: makeup-inspired clothing/accessories, and cosmetics.
The Top 30 MUA in Arizona list was carefully selected with conscious consideration of many factors including the reviews of past clients or customers. It highlights and features some of the best Makeup artists, nails lashes, and eyebrows technicians in Arizona. Soeleish Phoenix Magazine is one of the fastest-growing magazines in Arizona. It offers the most credible business, information, technology, and lifestyle content, among other magazines in the state. Soeleish Phoenix Magazine is the first of its kind to cater to entrepreneurs and small business owners within the state. One of the magazine's goals is to motivate prospective small business owners by sharing the success story of other small business owners in Arizona. From Scottsdale to Tempe, and all other communities, Soeleish Phoenix Magazine features the best beauty experts in Arizona for the 2nd year in a row.
So, if the general public is interested in learning more about the best Makeup Artists in Arizona, go no further. With this list, the hunt for the top salon in the state may have just gotten a huge boost. This eliminates the need for people living in Arizona to spend hours browsing the internet for the best Makeup Artists in their region.
The general public can view a list of the top 30 make-up artists in Arizona, with Ashley Wagner ranked first, at https://www.digitaljournal.com/pr/soeleish-phoenix-magazine-releases-its-highly-anticipated-magazine-of-makeup-artists-in-arizona-for-2022
The public can also check out Ashley Wagner's work on Instagram @ashleyswagnerxo @makeupbyashleywagner and @timelosangeles
Individuals interested in purchasing a hard copy of the SOELEISH PHOENIX MAGAZINE can do so at SPHXMAG.COM.
Media Contact
Company Name: Soeleish LLC
Contact Person: Helena R. Michell
Email: Send Email
Phone: 602-529-3477
State: Arizona
Country: United States
Website: https://sphxmag.com/