The US Book Reviews Commends Author James B. Anstead for his book Around the World in Five Lines
Around the World in Five Lines written by James B. Anstead is one of the best poems on travel, it represents a wide variety of views, and is taken from different periods. They raise questions, share the joys of travel, and remind us to not take it for granted.
He writes: "An imaginative young lad from Wales. Liked to embellish the truth and tell tales." He writes with enthusiasm giving his readers the allure of travel, and the wonders that can be discovered when we venture beyond our doorsteps.
Anstead's work caught the attention of Mark Heisey of The US Review of Books, one of the finest reviews and rating sites, and commended him for his collection of limericks. He said: "Each limerick in this collection takes place in a different part of the world. The locations can range from Utah to Hongkong to Tel Aviv or anywhere in between. The subject of each limerick is typically identified in the first two lines by trait or characteristic. The following three lines then build a quick sketch of this subject based on the identifier. Most lyrics are written to be humorous, and the best are often witty and insightful simultaneously."
Heisey's descriptive review is a thorough analysis and/or evaluation of the quality, meaning, and significance of the book. "Anstead's topics range from old codgers to sports stars, criminals to Yoga students, and young ladies to thespians. The representation is meant to cover a diverse range of characters from places all over the world," he adds.
The review also offers a critical assessment of the content and took notice how this collection shows a clear understanding of the genre and the limerick form, "The author's limericks follow the classic pattern of five lines and rhyme. Considering the form and rhyme scheme, the writing is grammatically clean."
Writing humorous poetry seems easy, but it isn't. You have to create clever but simple wordplay, set up scenarios with punch-lines, and sneak in the occasional morbid humor and Anstead succeeds in all of these, "No offering in this collection will strike the funny bone of every reader. Some lines will undoubtedly make almost any reader smile."
Overall, The US Book Reviews said Around the World in Five Lines is an engaging read and a book that would feed your wanderlust.
Available in all major online retail book stores!
Paperback: https://amzn.to/3rZv580
Hardback: https://amzn.to/3s8auhM
About the Author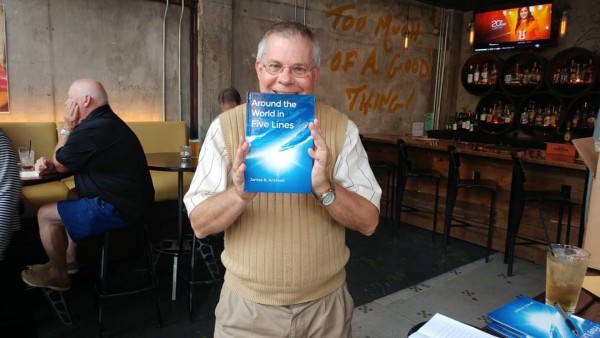 James B. Anstead's mother fostered a love of literature and appreciation of poetry in him. He began his teaching career in 1977. Away from the classroom, he devotes much of his time to basketball. James holds two degrees from Northern Kentucky University: a BA in history and an MA in education. He is currently employed by the Covington Public Schools in Kentucky. His hobbies include reading, listening to music, and occasionally singing at a local pub, cooking, and hiking.
Media Contact
Company Name: URLink Marketing | URLink Print and Media
Contact Person: Media Relations
Email: Send Email
Phone: 1-888-980-6523
Address:1603 Capitol Ave., Suite 310
City: Cheyenne
State: Wyoming 82001
Country: United States
Website: www.urlinkpublishing.com/