Upcoming Virtual Summit to Debunk Narrative About Networking Marketing and Multi-level Marketing businesses and Provide Opportunities for those who have lost employment due to the global pandemic
London – November 09, 2020 – Thanks to confidence and mindset coach, Donna Hudson, a global virtual summit on network marketing and multi leveling marketing (MLM) has been scheduled for the 4th of January, 2021, and will run for 7 days. The summit aims to provide various business opportunities to those who have been laid off because of the global pandemic. It will also explore the possibilities that are open for those who are seeking an additional income stream after being laid off from their job.
130+ female speakers with either a Network Marketing or MLM business will be taking part in the summit and will be sharing their personal stories and experiences. These talks will reveal how these women decided to join the Network Marketing industry and how they have benefited from it. At the end of the summit, interested attendees will be provided with enough information to make an informed decision about whether they would like to start their own venture in either network marketing or MLM, or even in their own business.
Considering the distressing financial effects of the COVID-19 pandemic on lives, Donna Hudson has sought to help people recover financially by organizing the summit. The coronavirus has left many unemployed and others unsure of their positions at work. Those who have been laid off from a career that once was their primary source of income are worried sick and feel confused about what the future holds for them. Together with other successful female entrepreneurs and business owners, Donna Hudson is stepping up to provide business training to women who intend to start their own businesses. She highlights that everyone is welcome to attend, especially women who are intent on escaping the 9-5 job routine to become their own bosses.
Donna Hudson also hopes to dispel common myths about the legitness of network marketing and MLM. The speakers taking part in the summit will transparently be sharing their own personal stories for all to see and judge, Donna Hudson, and every female speaker in attendance hope to show that Network Marketing and MLM could be the way out of financial troubles. Over the course of the 7-day summit, the speakers will share their high and lows. And will reveal their success stories. Talks and lessons will span across many industries including finance, health and wellness, beauty, clothing, food and drink, and travel.
More speakers with either Networking Marketing or MLM businesses are encouraged to apply to speak at the summit.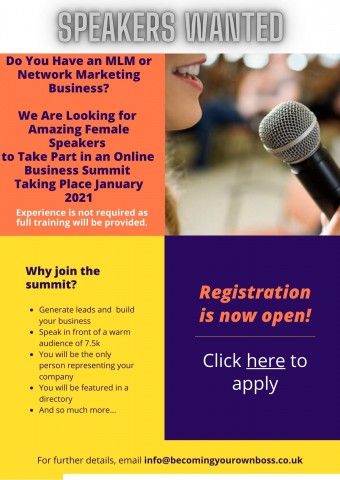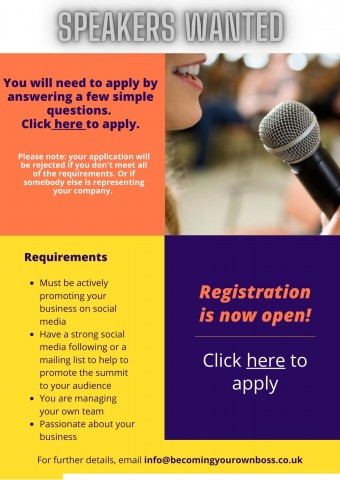 For more information, please visit: www.becomingyourownboss.co.uk
Media Contact
Company Name: Becoming Your Own Boss
Contact Person: Donna Hudson
Email: Send Email
Address:Suite 116, 185 Dartmouth Road
City: London
Country: United Kingdom
Website: http://www.becomingyourownboss.co.uk/