The Benefits of Using Furniture Paint Spraying Machine over manual Paint Spraying
Affordable Furniture Paint Spraying Machine with the Advantage of Maintaining a High Degree of Flexibility
1. 3D Scaner, special reading software read the dimension and routed grooves on the panel
2. Automatic self programming and Painting
3. Automatic Spray guns and paint tube cleaning system
4. Industrial PC and touch screen control, easy operation
5. Output: 20-25 doors per hour
6. Application: Raised or curved panels, Flat & Raised doors, Indoor& Outdoor furniture, Bedrooms, Stairs, Windows, Interior coverings, Suspended ceilings, Flat slabs for external wall covering, Pre-paintend sheet, Noise barriers , Metal sheets and panels, and plastic parts
Description of Furniture Paint Spraying Machine
The Automatic Furniture Paint Spraying Machine is specific designed to spray the various panel-type workpiece, like wooden panels, flat door, raised door, cabinet door, stair and other furniture components.
Features of Furniture Paint Spraying Machine
1. Furniture Paint Spraying Machine allows paint guns to operate in five axes (X,Y,Z,A,B);
2. Gun movements are programmable: linear motion goes along the X,Y,Z axis and rotation motion goes around the vertical (A) and horizontal (B) axis;
3. Painting head allows for installation of up to 4 automatic paint guns;
4. Number of installed paint spray guns and their functionality (e.g. rotary or fixed) depends on specifics of a painting process;
5. Painting head speed is up to 100 m/min in the horizontal plane (along the X and Y axes) and up to 30 m/min in the vertical plane (along the Z axis);
6. Automatic paint spray guns that apply material with preset working parameters minimize paint material losses, reduce time of painting process and filter fatigue;
7. A glazed spray booth with an air filtration system and inside lighting allows for ongoing control of a painting process;
8. Service door facilitates access to the interior of the paint machine which is incorporated in the system of emergency shutdown of the paint machine in the event of opening it during operation;
9. Compact design of the paint machine along with accessories and equipment minimizes amount of space required for installation of the machine and current operations;
10. The turntable increases efficiency of operations by shortening loading and unloading times of workpieces;
11. The upender allows the door leaf to be painted on both sides during a single loading of the painting machine;
12. Aperture stop automatically closes and opens when the operating mode is activated to ensure maximum cleanliness in the lacquering area.
13. Automatic paint reclaim system and spray gun cleaning system is applied;
14. It can be installed in existing paint booths with a pre-installed air exchange system.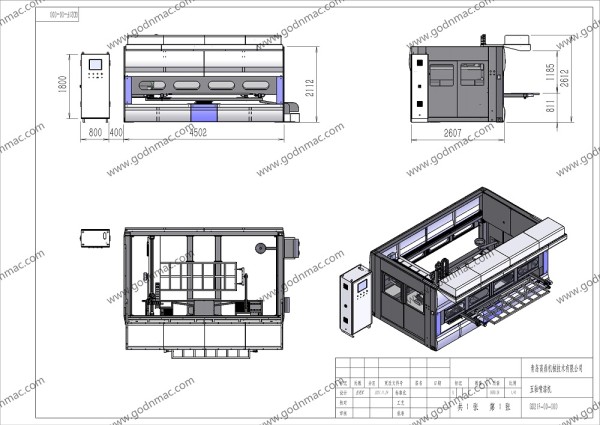 Technical Parameters of Furniture Paint Spraying Machine
| | |
| --- | --- |
| Max.Working Dimension | 2500x1300x300mm |
| Max.Working Weight | 50kg |
| Gun Movement Speed | 100m/minute |
| Total Power | 4.3kw |
| Compressed air pressure | 0.6-0.8Mpa/6-8Bar |
| Compressed air consumption | 100 l/min (excluding paint spray guns) |
| Working Efficiency | 1.5-3minutes per working area |
| Loading time of elements into the working area | 10s (turntable rotation time) |
| Operator | 1-2 person |
| Weight | 2800kg |
| Overall Dimension | 5700*3600*2725mm |
Media Contact
Company Name: QINGDAO GODN MECHANICAL TECHNOLOGY CO., LTD.
Email: Send Email
Phone: 008-532-87293096
Country: China
Website: https://www.godnmac.com/