Pompe Disease Diagnosis, Treatment and Market Report by Delveinsight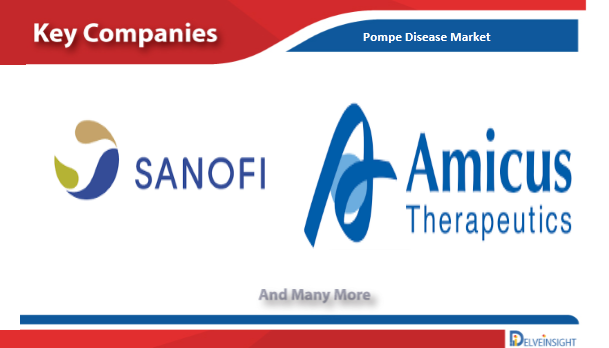 The Pompe Disease market report provides the current treatment practices, emerging drugs, market share of the individual therapies, current and forecasted market size of Pompe Disease (PD) from 2018 to 2030 segmented by seven major markets. The Report also covers current treatment practice/algorithm, market drivers, market barriers and unmet medical needs to curate best of the opportunities and assess underlying potential of the market.
Pompe Disease Overview
Pompe disease (PD), also known as glycogen storage disease type II (GSDII) or "acid maltase deficiency", is caused by the absence or deficiency of acid alpha-glucosidase (GAA), a lysosomal enzyme that is responsible for the cleavage of the α-1, 4- and α-1, 6-glycosidic bonds of glycogen to glucose. The disease is caused pathogenic variations in the acid alpha-glucosidase (GAA) gene. Close to 500 different GAA gene variations have been identified in families with this disorder.
Download free sample copy- https://www.delveinsight.com/sample-request/pompe-disease-market
List of regions covered in the report
The United States
EU5 (Germany, France, Italy, Spain and the United Kingdom)
Japan
List of companies involved in the report
Genzyme
Sanofi
Amicus Therapeutics
Actus Therapeutics
Valerion Therapeutics
Astellas Therapeutics
Roche
Lacerta Therapeutics
And many others
Pompe Disease Diagnosis
The diagnosis of Pompe disease often poses a diagnostic dilemma due to the rarity of the condition and the relatively nonspecific nature of the phenotypic features that may only lead to suspicion of Pompe disease. A chest x-ray and electrocardiogram (ECG) are valuable screening tests in the diagnostic algorithm for infantile Pompe disease and an echocardiogram is a valuable next step. Chest x-ray shows massive cardiomegaly. ECG shows a short PR interval as well as very tall QRS complexes. Among patients presenting with cardiomyopathy, an electromyogram (EMG) can be useful to document presymptomatic myopathy. Blood tests should include a serum creatine kinase (CK) examination. CK elevation is a sensitive although very nonspecific marker for Pompe disease.
Pompe Disease Treatment Market
The treatment of Pompe disease is disease-specific, symptomatic, and supportive. Treatment requires the coordinated efforts of a team of specialists with expertise in treating neuromuscular disorders. Pediatricians or internists, neurologists, orthopedists, cardiologists, dieticians, and other healthcare professionals may need to systematically and comprehensively plan an affect child's treatment. Enzyme replacement therapy is an approved treatment for all patients with Pompe disease. It involves the intravenous administration of recombinant human acid α-glucosidase. This treatment, manufactured by Genzyme, a Sanofi Corporation.
Pompe Disease Market Insights
Although historically, Supportive Care had been the mainstay of treatment (thereby generating a massive amount of revenue), but the approval and subsequent launch of ERT in 2006 after decades of research, helped turn the treatment landscape upside down, prompting a new era in the treatment of this disease. This was the first disease-specific treatment for an inherited muscular disorder consisting of the intravenous administration of recombinant human GAA (Myozyme/Lumizyme).
AT-GAA: Amicus Therapeutics
Pompe Disease Marketed Drugs
Lumizyme/ Myozyme (alglucosidase alfa): Sanofi Genzyme
Pompe Disease Market Outlook
The Pompe Disease market outlook of the report helps to build the detailed comprehension of the historic, current and forecasted trend of the market by analyzing the impact of current therapies on the market, unmet needs, drivers and barriers and demand of better technology.
Pompe Disease Market Report Scope
The report covers the descriptive overview of Pompe Disease, explaining its causes, signs and symptoms, pathophysiology and currently available therapies
Comprehensive insight has been provided into the Pompe Disease epidemiology and treatment in the 7MM
Additionally, an all-inclusive account of both the current and emerging therapies for Pompe Disease are provided, along with the assessment of new therapies, which will have an impact on the current treatment landscape
A detailed review of Pompe Disease market; historical and forecasted is included in the report, covering drug outreach in the 7MM
The report provides an edge while developing business strategies, by understanding trends shaping and driving the global Pompe Disease market
Download free sample copy- https://www.delveinsight.com/sample-request/pompe-disease-market
Table of Content
1. Key Insights
2. Executive Summary of Pompe Disease (PD)
3. SWOT Analysis for Pompe Disease
4. Pompe Disease Market Overview at a Glance
5. Disease Background and Overview
6. Epidemiology and Patient Population
7. Country Wise-Epidemiology of Pompe Disease
8. Treatment and Management of Pompe Disease
9. Gene Therapy: What Future Holds
10. Case Study
11. Patient Journey
12. Unmet Needs
13. Marketed Products
14. Emerging Therapies
15. Other Promising Candidates
16. Pompe Disease: 7 Major Market Analysis
17. Market Outlook by Country
18. Market Drivers
19. Market Barriers
20. Health Economics of Pompe Disease
21. Market access and Reimbursement
22. Appendix
23. DelveInsight Capabilities
24. Disclaimer
25. About DelveInsight
Pompe Disease Market Report Highlights
In the coming years, Pompe Disease market is set to change due to the rising awareness of the disease, and incremental healthcare spending across the world; which would expand the Size of the market to enable the drug manufacturers to penetrate more into the market
The companies and academics are working to assess challenges and seek opportunities that could influence Pompe Disease R&D. The therapies under development are focused on novel approaches to treat/improve the disease condition
Major players are involved in developing therapies for Pompe Disease. Launch of emerging therapies, will significantly impact the Pompe Disease market
A better understanding of disease pathogenesis will also contribute to the development of novel therapeutics for Pompe Disease
Our in-depth analysis of the pipeline assets across different stages of development (Phase III and Phase II), different emerging trends and comparative analysis of pipeline products with detailed clinical profiles, key cross-competition, launch date along with product development activities will support the clients in the decision-making process regarding their therapeutic portfolio by identifying the overall scenario of the research and development activities
About Us
DelveInsight is a Business Consulting and Market research company, providing expert business solutions for life science vertical and offering quintessential advisory services in the areas of R&D, Strategy Formulation, Operations, Competitive Intelligence, Competitive Landscaping, and Mergers & Acquisitions.
Media Contact
Company Name: DelveInsight Business Research LLP
Contact Person: Yash Bhardwaj
Email: Send Email
Phone: +919650213330
Address:304 S. Jones Blvd #2432
City: Las Vegas
State: NV
Country: United States
Website: https://www.delveinsight.com/