Good Quality X Y Z axis Stainless Steel Cover
Short Description:
0Multiaxis Steel Cover System
Materials: Stainless steel
Brand: Krius
Function: Protect machine
Size: Customized
Certification: CE /ISO9001 /SGS
Trade term: EXW/FOB/CIF
Warranty time: 1 year
This kind of cover is make from the stainless steel, Multi-axis shield can protect each shaft. Typical industry application is vertical or horizontal.
Types: CNC steel cover
Features
This kind of cover is most advanced cover, can make up the weakness which other protective cover can't solve. With a more effectively protective function to ensure the machining accuracy of the machining center, and improve the beauty of appearance.
Multi-axis shield, X/Y/Z axis designed for customer requirement
1. Speed of 200m/min or more.
2. Acceleration up tp 1g or more.
3. Designed with ease of installtion and longevity in mind.
4. Protect the machine center from metal shaving, coolant, dust, oil etc.
5. Mounting arrangement to suit the customer's needs.
6. It has no interal metal parts which avoid metalparts, falling onto sideways may cause damage to machines.
Application: high speed, long travel distance CNC machine center.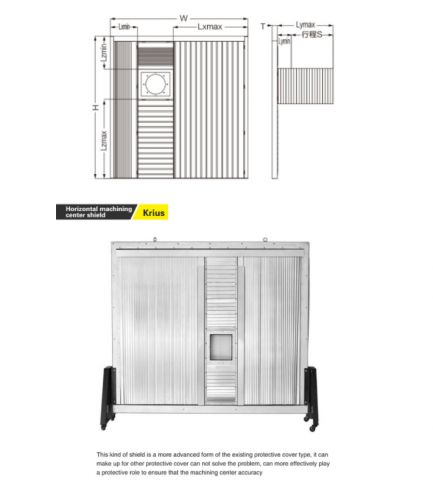 | | | | | |
| --- | --- | --- | --- | --- |
| Code | Des | Figure | Test result bv Kirus | Remark |
| Lxmax | X axie max stretched out length | | | Machine travel range(Not null) |
| Lxmin | X axie mix compressed length | | | |
| Lvmax | Y axie max stretched out length | | | |
| Lvmin | Y axie mix comressed length | | | |
| Lzmax | Z axie max stretched out length | | | |
| Lzmin | Z axie mix comressed length | | | |
| S | Travel distance for x/y/z | | | Machine max distance(Optional) |
| W | Transom width | | | Not null |
| H | Upright height | | | Not null |
| T | Transom, upright thickness | | | > =70mm (Not null) |
| | Accessories need | | | Optional |
| | Material of cover | | | Material and surface treatment (Optional) |
| | Guide rail item Xo. | | | (Not null attched) |
| | Running speeding | | | Not null |
| | Assemble way | | | Verticai/horizontal/otherWOptional) |
| | Equipment item No. | | | Optional |
| | Enviorment | | | Scarp or not (Optional) |
Media Contact
Company Name: Jiangsu Krius Machine Partsanp Accessories Co., Ltd.
Email: Send Email
Phone: 0086-15371491231
Address:No.59 Huacheng East Road, Lujia Town
City: Kunshan
State: Jiangsu
Country: China
Website: https://www.kriuschain.com/