Unleashing Tesery's Black Friday Extravaganza for Tesla Enthusiasts
US – Nov 3, 2023 – Tesery, a distinguished retailer specializing in premium aftermarket Tesla accessories, is set to redefine the Tesla ownership experience with an extraordinary Black Friday event. From October 27th to November 28th, Tesla aficionados can look forward to a curated selection of exclusive offers and discounts designed to elevate the driving experience.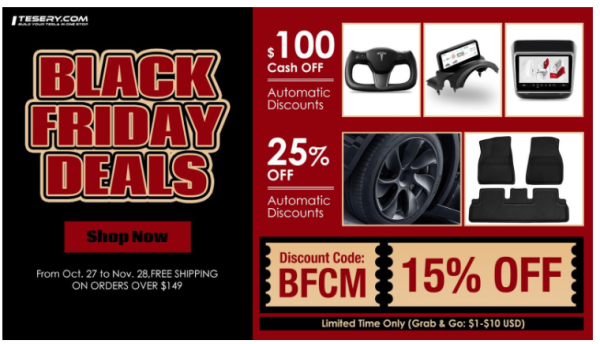 Unmatched Discounts and Offers:
$100 Off on Select Categories: Elevate your Tesla with $100 off on Steering Wheels, Dashboards, and Rear Entertainment Systems – key components that redefine the driving experience.
15% Storewide Discount: Enjoy an expansive 15% discount across Tesery's entire product range, promising an unmatched level of accessibility to Tesla enthusiasts.
25% Discount on Hubcap and Floor Mat Series: Enhance both aesthetics and functionality with an impressive 25% discount on Hubcap and Floor Mat series, perfect for those who demand style and substance.
Flash Sale Extravaganza: Dive into the thrill of flash deals priced at $1, $23, and $10 USD. With limited stock, this promises a race against time for Tesla enthusiasts.
Stackable Savings: Certain products offer automatic discounts when added to your cart, allowing savvy shoppers to maximize their savings.
Complimentary Global Shipping on Orders Over $149: Experience seamless delivery worldwide, complemented by an exemption from import taxes for payments exceeding $149 USD.
Tesery's Black Friday event is a testament to the brand's commitment to providing Tesla owners with the highest quality accessories at unprecedented prices.
For more information about Tesery's Black Friday Sales event and to explore their premium collection, visit Tesery Black Friday Sales.
Tesery is a pioneering retailer specializing in high-quality aftermarket accessories meticulously crafted exclusively for Tesla vehicles. With a steadfast commitment to innovation, functionality, and aesthetics, Tesery transcends the ordinary, elevating the Tesla ownership experience.
For further information about Tesery's Black Friday Sales event or to schedule an interview with a company representative, please reach out to Juliet at +86 185 6670 3079 or [email protected]
Media Contact
Company Name: Tesery
Contact Person: Juliet – Marketing Manager
Email: Send Email
Phone: +86 185 6670 3079
Country: United States
Website: https://www.tesery.com/