Integrated Manufacturing Solutions Earns Xometry's Excellence in Manufacturing Award for Third Straight Year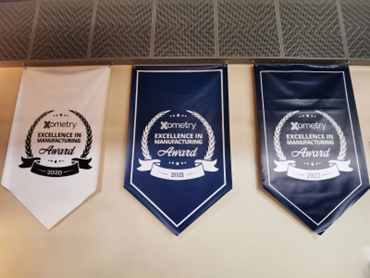 IMS' Focus on Innovation and Exceptional Service Leads to Continued Success in Metal Fabrication Industry
Lakeville, MN – MAY 23, 2023 – Integrated Manufacturing Solutions (IMS) has been awarded Xometry's Excellence in Manufacturing Award for the third consecutive year. This prestigious award recognizes top partners in the manufacturing industry who exhibit a commitment to quality, responsiveness, professionalism, and timeliness. These values are perfectly aligned with IMS' founding mission, which makes it easy to see why IMS has been able to receive this recognition three years in a row. Since its founding in 2005, IMS has been at the forefront of precision metal fabrication, providing cutting-edge automated information and production services in the upper Midwest. This business model was designed for the future, with a special emphasis on meeting specific requirements under sensitive timeframes. Today, IMS continues to exceed customer needs and expectations, constantly pushing the boundaries of the industry. "Winning Xometry's Excellence in Manufacturing Award for the third year in a row is a testament to our team's unwavering commitment to quality and professionalism in every aspect of our work," said John O'Brien, Sales Manager at Integrated Manufacturing Solutions. "At IMS, we strive to exceed our clients' expectations by providing innovative solutions and exceptional service. It's an honor to be recognized for our efforts, and we're excited to continue our partnership with Xometry to push the boundaries of the manufacturing industry together."
A business model designed for the future can only be cutting edge if it continues to evolve with the times, which is the importance of Xometry's relationship with IMS. In 2013, Xometry realized that the manufacturing industry could gain some serious benefits by implementing a marketplace model, which led to Xometry's use of sophisticated Artificial Intelligence models in order to match manufacturers with providers. This makes for a more convenient and affordable, direct connection, which can be essential for modern manufacturing needs and practices.
Bringing a modern edge to the manufacturing industry is certainly easier said than done. IMS became a perfect pick for Xometry in accomplishing this task thanks to hand-picked, talented IMS employees that share a passion for excellence, and a mission to meet and exceed client expectations. This precision industrial powder coating and sheet metal fabrication business claims confidently that IMS is "fabricating the only way a company can if it wants to be around long-term". This shows in the multiple awards and the impressive marketplace value.
IMS holds a shining reputation for consistently meeting the needs of clients with a dedication to providing what is needed, when it is needed. This innovative system providing more convenient manufacturing services at more affordable prices shows that IMS has a strong commitment not only to bettering the industry, but to helping the community.
For more information about Integrated Manufacturing Solutions' custom metal fabrication, please visit their website at https://e-ims.com/. And, to learn more about Xometry and the AI-powered manufacturing marketplace of the future, please visit https://www.xometry.com/.
Media Contact
Company Name: IMS
Contact Person: Paisley Reynolds
Email: Send Email
Phone: 218-209-8405
Country: United States
Website: e-ims.com