Too Breezy Air Conditioning Launches Alira X Daikin Split System Installations in Brisbane

Elevated Comfort: Too Breezy Rolls Out Daikin Alira X Installations in Brisbane.
May 22, 2023 – Too Breezy Air Conditioning, an experienced air conditioning contractor based in Brendale, QLD, proudly announced the inclusion of Alira X Daikin split system air conditioning units in their extensive service offerings, a move set to revolutionize the home cooling solutions landscape across the Brisbane region.
With an excellent reputation for delivering exceptional cooling solutions, Too Breezy Air Conditioning has consistently met and surpassed homeowners' expectations in and around Brisbane. The introduction of Alira X Daikin units further reinforces Too Breezy's unwavering commitment to providing unparalleled comfort and personalized cooling solutions.
These innovative Alira X Daikin split system units are designed to provide superior cooling performance, holding steadfast even amidst harsh summer conditions. Engineered with advanced noise reduction technology, these units operate with impressive near-silent efficiency, contributing to the tranquillity of residential environments.
In an era where energy efficiency is key, Alira X Daikin units notably stand out for their low energy consumption. Homeowners can now relish the comfort of a perfectly cooled home without worrying about escalating energy costs. These units showcase an environment-friendly design, reflecting Too Breezy's dedication to sustainability and their efforts towards contributing to reduced carbon emissions in Brisbane homes.
But the benefits of Alira X Daikin units extend beyond cooling. These split systems are equipped with an integrated air purification system, enhancing indoor air quality and contributing to healthier living environments. The sleek design and near-silent operation of these units adds to the aesthetic appeal of homes, creating serene and visually pleasing spaces.
Today's announcement further cements Too Breezy Air Conditioning's standing as a trusted and leading air conditioning contractor in Brisbane. With the introduction of Alira X Daikin split system installations, the company continues to push the boundaries, setting new benchmarks in home comfort, energy efficiency, and sustainable cooling solutions.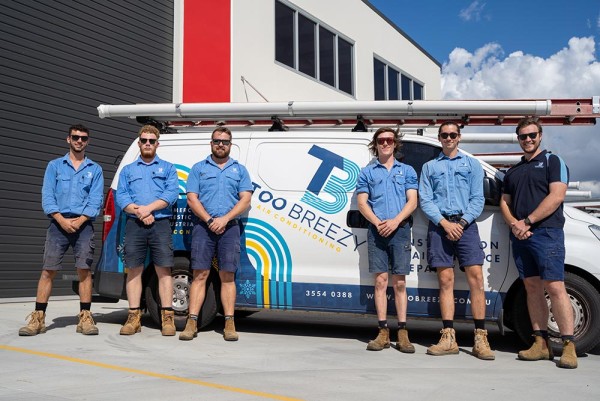 For further information on these home cooling solutions and air conditioning installation services, visit toobreezy.com.au or call (07) 3554 0388.
Media Contact
Company Name: Too Breezy Air Conditioning
Contact Person: Media Relations
Email: Send Email
Phone: (07) 3554 0388
Country: Australia
Website: https://toobreezy.com.au