New Hit For The Fall? Absolute Phase Releases YAAPOM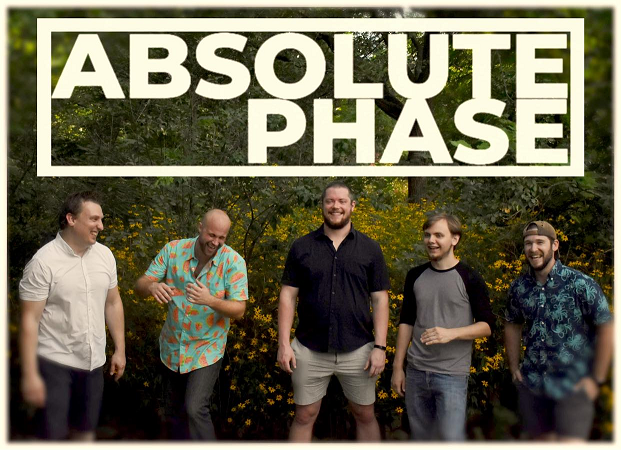 Does the word YAAPOM mean anything? No? It will after one hear Absolute Phase's new single. A blend between pop, rock, and indie, this song came out of nowhere on to our radar with its, catchy guitar riffs, driving bass lines, and high rock screams. One can hear the hints of nineties and two thousands inspired alternative pulling from influences like Soundgarden to My Chemical Romance and marrying them with more current inspiration from artists such as Walk the Moon or Catfish and the Bottlemen. The song, YAAPOM (You Are A Part Of Me), talks about the feelings of a busy, hectic life, that one has to accept, embrace, and express however you want and it does it with energy and vigor. YAAPOM dropped October 12 of this year and is already making waves in the industry.
Let's dive deeper into the artists behind the name and what makes them tick. Absolute Phase currently has five members; Zak Johnson (vocals/guitar), Alvin Santner (lead guitar), Ian Rottner (rhythm guitar/vocals), Matt Storey (bass/vocals), and Andrew Kolb (drums/vocals)
Up first, there is the leader. Zak Johnson is a singer/songwriter and multi-instrumentalist from the west suburbs of Chicago. He is the lead singer, main songwriter, and rhythm guitarist for Absolute Phase. He is also the lead singer for Rhythm Giants. Coming from a musician family, he started creating music from the moment he could speak. His father, Dennis Johnson, original bass player for the bands Survivor and Chase, was inducted in the Iowa Rock 'n Roll Music Association: Hall of Fame a few years back and his mother, Cherryl Fonfara, was a well renowned studio and jazz vocalist around the Chicagoland area nurtured his singing ability and songwriting talent from that early age helping shape him into what he is today. That's not to say that there weren't any setbacks. Zak was diagnosed with ADHD, CPTSD, and Bipolar Disorder Type 1. It is his dream to use his talents and share music with the world that helps people who suffer from mental health issues by showing them that it's okay to be themselves, that they can survive the suffering. Zak leads the band and focuses on the marketing of the group while playing a supporting in every other department.
Next there is Alvin Santner. Alvin is a guitarist, composer, and teacher living and working in the Chicagoland area. He grew up in the North Suburbs of Chicago, first picking up a guitar in eighth grade when he was inspired to learn by the music of legendary British rock band, Queen. Alvin spent the next three years immersed in the musical world of blues and rock, studying and learning the music of Led Zeppelin, B.B. King, Buddy Guy, Stevie Ray Vaughan, and of course, Queen. He got his start in jazz in his high school's big band, studying with legendary Chicago guitarist and pedagogue Frank Portolese, and gigging at restaurants in the north suburbs. Alvin is currently a Junior at DePaul University, pursuing a degree in Jazz Studies. He has studied under the expert mentorship of Bob Palmieri, Bob Lark, and Julian Lage. Alvin prides himself on synthesizing his extensive knowledge of jazz and musical technique with styles more idiomatic of the guitar. He brings his unique musical voice to every musical project he's involved with, bringing fresh and original guitar sounds to Absolute Phase's musical profile as their lead guitar player.
Holding down the low end, Matt Storey is a bassist, vocalist, and songwriter who has called Chicago his hope for over half a decade. He was born and raised in St. Louis, MO, but got his start playing music in Indianapolis, IN. There he founded the band 'Dread Serenity' taking the role of bassist and co-wrote their first and only EP 'A Piece of Us' in 2013. The band broke up shortly afterwards and Matt began studying with Conner Green, bassist from prog rock band Haken. In 2015 Matt moved to Chicago and took over vocalist and some songwriting responsibilities for metal band When Evil Reigns. During this time Matt also met and began learning from Dennis Keith Johnson, which is how he met Zak. In 2016 'When Evil Reigns' changed their name to 'Purge & Rebuild' under this moniker the band performed regularly opening for such bands as Nekrogoblikon and Upon a Burning Body. The band also released two singles during this time teaming up with Ash Matthews of Smartboy Studios and Pete Grossman with Bricktop Studios. Matt parted ways with the band in fall of 2021. Before joining Absolute Phase, Matt performed and recorded with Americana band Littlebirds for a couple years. He recorded bass for their self-titled EP at Rax Trax Recording in Chicago with grammy nominated engineer Andy Shoemaker. During his tenure as performing bassist with Littlebirds they played notable Chicago venues including Bottom Lounge, The Hard Rock Cafe, and the House of Blues where they supported the band 'Smoking Popes'. Matt left Littlebirds shortly after joining Absolute Phase in 2017 but has still been known to perform with them occasionally. Matt performs as bassist and a background vocalist for Absolute Phase. He contributed his unique style of bass playing to their first record 'The Little Black Book.' In addition to the big bottom sound, he played a notable role in the songwriting, lyrics, and performed vocals on the song 'Love Turns'. During his time with the band, they've performed at notable venues such as The Wire, Cubby Bear, and Basecamp, and also have played a supporting role with national acts such as Otherwise and Spoken. As the band prepares for their next musical release Matt has taken over management duties in addition to his musical contributions.
Ian Rottner is a guitarist/vocalist/multi-instrumentalist local to Chicago IL. Originally started playing piano at the age of 10 which completely opened his world to wonderful aspects of music. The inspiration to pick up guitar came from when his older brother got his first guitar being a Fender Strat. Every time his brother wasn't watching he would take it out and start playing it without formal training. Down the line he played in numerous bands but his most notable one was the group he formed called Social Que which consisted of himself and Samuel Gutsmiedl. The duo played together for over 5 years rocking all throughout the Midwest. Between Ian's mean Royal Blood-esque riffs layered with Incubus style vocals and by Sam's punctual, rhythmically pleasing drum riffs the duo was able to reach regional success playing major venues like The Cubby Bear, Milwaukee Summerfest, Basecamp, and Martyrs. He also played bass for a band called The Lunchroom Rejects consisting of Demetrius Triplet, Vince Sandri and Erica Minor, of whom hes done other projects with. After years of playing together with Social Que and The Lunchroom Rejects, the pandemic hit causing Social Que to part ways while The Lunchroom Rejects too a hiatus. After Ian had left Social Que, he decided to start doing a solo project called The Noise-Machine, which consists of him collaborating with artists from all over the U.S. His last song, 'Unstoppable' was written and produced with Jules and The Howl. A couple months later he auditioned for the Absolute Phase placing him as their rhythm guitar player and background singer while supporting the bands growth with production and social media prowess.
Andrew Kolb is a drummer/singer/songwriter/teacher living in the Northeast suburbs. He graduated from Elmhurst University in music, specializing in percussion and has played kit for Absolute Phase since it's conception. In addition to his juicy drumbeats, he is the main background vocalist for the band. He also takes charge of the band's booking and will be setting a large tour up in the coming months.
Together, with all of their separate influences, the unique sound of Absolute Phase is born.
People are going to be hearing about these guys everywhere.
Listen here: https://open.spotify.com/album/1qwlcHBHLUFbD1WyP4m4N9?si=uawnHVLZQ8y8LTXnHXAd3g
Additional Information:
Facebook.com/absolutephasetheband
Instagram.com/absolutephasetheband
Media Contact
Company Name: Absolute Phase
Contact Person: Media Relations
Email: Send Email
Phone: 13126361273
Country: United States
Website: https://www.absolute-phase.com