Bright Light Publishing Announces the Release of "Dear Young Me", A Devotional Guide to Heal From Past Hurt
"Dear Young Me" emerged as a result of the author's healing process and is written to inspire, bring comfort and healing to individuals who have suffered trauma in the past
Bright Light Publishing has announced the release of Joy Harris-Bird's new book "Dear Young Me". Inspired by the healing process the author went through, the devotional guide is a third from Joy Harris-Bird and a product of her life's experience.
Pain from past hurts are almost inevitable while they are capable of breaking a person, Joy Harris-Bird believes that anyone can heal if you put in the work. Speaking about the book here's what she has to say, "This book is inspired by my journey of healing and restoration. Despite spending years hiding from the pain of past hurt, I believe that everyone can still heal. I have validated my claims after taking the necessary steps to acknowledge, reveal, and heal from childhood trauma. This devotional book guides you through weekly readings and activities to help you on your journey of healing. God can and will heal your pain, but you have to put in the work. Let "Dear Young Me" inspire you to live and fully walk in your purpose."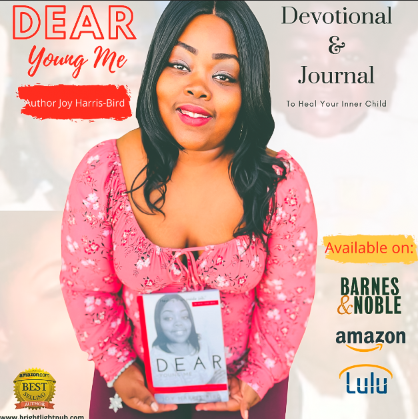 The book is written to address persons from age 18 and above who have gone through any form of childhood trauma and still retain hurt in their hearts. Traumatic experiences from childhood are largely associated with Post-traumatic Stress Disorder (PTSD), anxiety, stress, depression, and antisocial behavior.
Joy Harris-Bird has healed completely and this motivated the writing of "Dear Young Me" in a bid to inspire others like her to move from the pain of the past. Every page of this devotional guide is written to draw the attention of individuals who need inner healing.
"Dear Young Me" will inspire hope, self-love, and faith in God to heal. Joy Harris-Bird, who is also the CEO of Bright Light Publishing, added that "There is too much purpose in my story to be silenced by pain."
This book is for everyone and anyone looking to find healing from experiences that caused them pain in the past.
About Author
Joy Harris-Bird is an author, creative writer, and entrepreneur. She is the CEO of Bright Lights Publishing. She holds a Bachelor's degree in Criminal Justice from Southeast Missouri State University. She is also the creator of an independent blog where she uses her life stories to inspire others. Her books include Zoey The Great and Different Like Me. She also has an affirmation journal for children, titled It's Ok To Be Different.
Mrs. Harris-Bird is a firm believer in kindness and treating everyone with dignity and respect. She understands that everyone was created for a purpose and has a story.
About Bright Light Publishing
Bright Light Publishing, LLC was founded in 2021. They are advocates for diversification of literary works and publishing. The company focuses on telling stories about acceptance, equality, inclusion, and kindness, with the primary goal of producing books that feature diverse stories and literature to share their message with the world.
To get more information about the author, Joy Harris-Bird, the book, and Bright Light Publishing visit the website https//www.brightlightpub.com
Media Contact
Company Name: Bright Light Publishing
Contact Person: Joy Harris-Bird
Email: Send Email
Phone: 314-649-7234
Country: United States
Website: https//www.brightlightpub.com