Global Diabetes Drug Market will be US$ 78.10 Billion by 2026 | Renub Research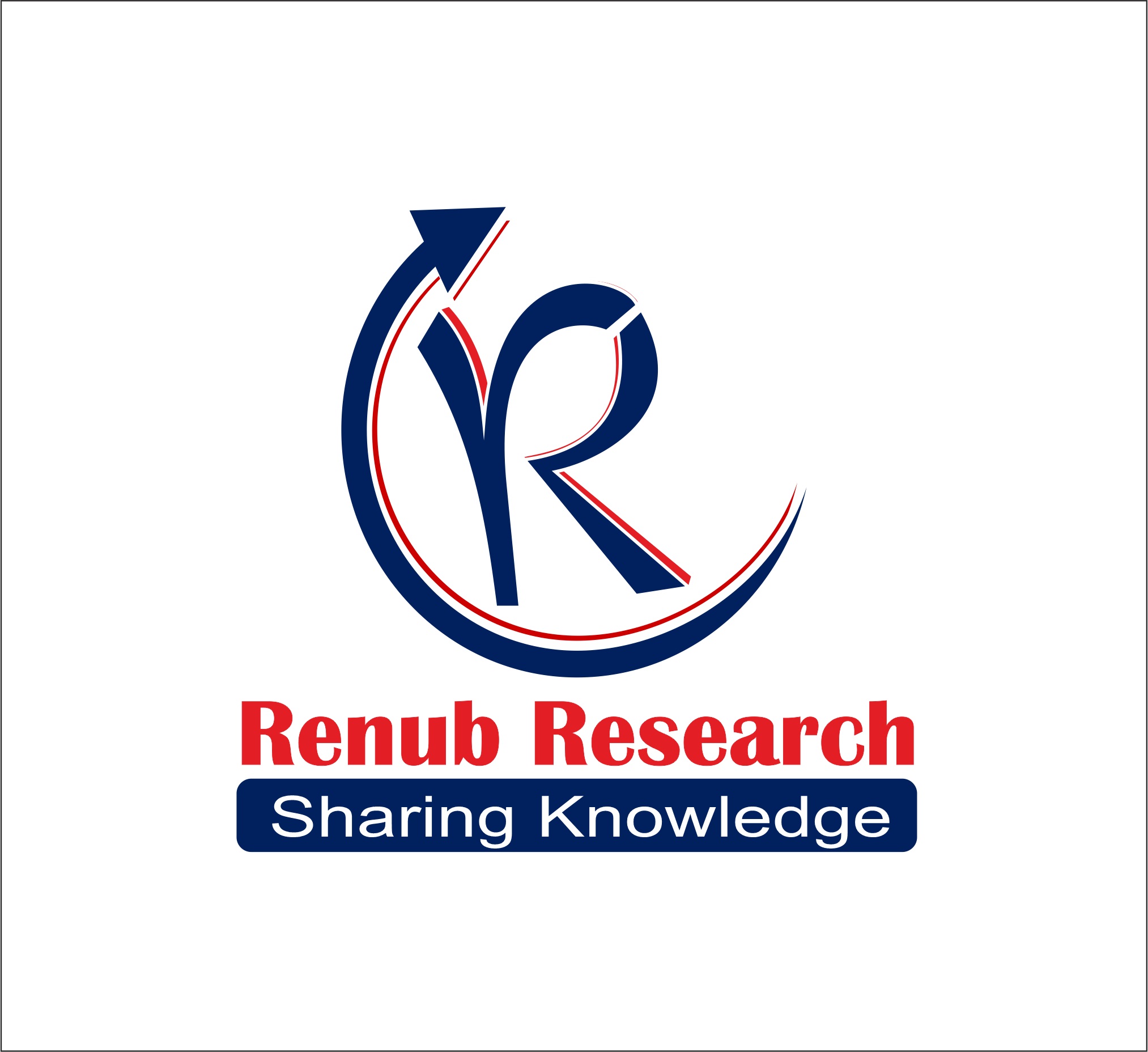 Our core team is comprised of an experienced people holding graduate, post graduate and Ph.D. degrees in Finance, Marketing, Human Resource, Bio-Technology, Medicine, Information Technology, Environmental Science and many more. Our research helps to make the business decisions: on strategy, organization, operations, technology, mergers & acquisitions etc. We support many blue chip companies by providing them findings and perspectives across a wide range of markets.
According to Renub Research analysis Global Diabetes Drug Market will be US$ 78.10 Billion by 2026. Forecast for By Disease, Oral Therapy (2020 – 2026)
According to the latest report by Renub Research, titled "Diabetes Drug Market Global & Forecast By Disease, Oral Therapy, Injection, Insulin, Regions, Company" Diabetes drugs are used to treat pre-diabetes and diabetes mellitus type 2 by controlling the blood glucose level of the body. There are different classes of medicine for the treatment of this diabetes, which are given to patients through oral, intravenous, and subcutaneous routes. According to Renub Research analysis, Global Diabetes Drug Market is forecasted to be US$ 78.10 Billion by 2026. This growth is due to the rising number of diabetes patients worldwide, increasing per capita income. Another reason is with the use of machines; people are following a sedentary lifestyle, which leads to obesity, a decline of physical activity, and consumption of unhealthy meals. Besides, growth in the ageing population is also one of the other reason.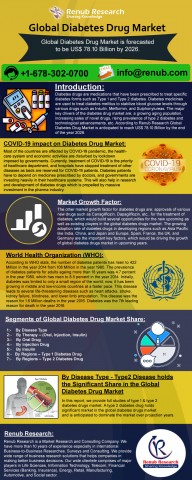 According to WHO stats, the number of diabetes patients has risen to 422 Million in the year 2014 from 108 Million in the year 1980. The prevalence of diabetes patients for adults ageing more than 18 years was 4.7 percent in the year 1980, which has risen to 8.5 percent in the year 2014. Initially, diabetes was limited to only a small region of the world; now, it has been growing in middle and low-income countries at a faster pace. This disease leads to several life-threatening diseases such as heart attacks, stroke, kidney failure, blindness, and lower limb amputation. This disease was the reason for 1.6 Million deaths in the year 2016. Diabetes was the 7th leading reason for death in the year 2016.
To avoid this disease, WHO has given prevention through which an individual can live a healthy life, such as to prevent or delay type 2 diabetes people should have and manage a healthy BMI (Body Mass Index) ratio. Physical exercise of at least 30 minutes of regular and moderate-intensity activity should be done daily for weight control. Diet should be healthy without saturated fat and sugar. The use of tobacco should be avoided, as smoking is liable for the risk of diabetes, heart ailments, and respiratory disorders.
COVID-19 impact on Diabetes Drug Market
Most of the countries are affected by COVID-19 pandemic, the healthcare system and economic activities are disturbed by lockdown imposed by governments. Currently, treatment of COVID-19 is the priority of healthcare department, and hospitals have stopped treatment of other diseases as beds are reserved for COVID-19 patients. Diabetes patients have to depend on medicines prescribed by doctors, and governments are investing heavily in their healthcare systems. This will also help in research and development of diabetes drugs which is propelled by massive investment in the pharma industry.
The global diabetes drug market will grow in the future due to the increasing adoption of diabetes drugs in the following nations such as the United Kingdom, China, Germany, India, France, Japan, and Spain.
Most of the small and big market players are launching new diabetes drugs at regular intervals; besides, this collaboration, partnership, expansion, and acquisition between them will also propel the global diabetes drugs market.
There are numerous diabetes drugs used to treat type 2 diabetes, such as Lantus subcutaneous, Metformin, Avandia, Invokana, and Actos. All drugs are given orally expect insulin, Pramlintide, Exenatide, and Liraglutide. Insulin is injected through delivery devices, including insulin syringe, intravenous sets, jet injectors, infusion pump, and insulin pen.
Request a free Brochure copy of the report: https://www.renub.com/request-brochure-page.php?gturl=diabetes-drug-market-p.php
Market Summary:
By Disease: This research report has covered the market of Type 1, Type 2 diabetes, according to Renub Research analysis.
Oral Therapy: The market for following Oral Therapies is covered in this report, such as Biguanide, SGLT-2, Alpha Glucosidase Inhibitor, (DPP) IV Inhibitor, and Others Oral Drug.
By Injection: This report gives the market for following injection Glucagon-like peptide (GLP) 1 agonist, Amylin receptor against
By Insulin: The market for following insulin types are covered in the research report: Rapid – Acting Insulin, Long Acting Insulin, Premixed Insulin, and Other Insulin.
By Regions: The following regions are covered in the research report Japan, India, United States, 5European Union, Canada, China, and Brazil.
By Company: Overview, R&D Pipeline and Sales Analysis of Novo Nordisk, Merck & Co, Eli Lilly, AstraZeneca, Johnson & Johnson are given in the research report.
Industry Related Opportunity:
Epilepsy Drugs Market: https://www.renub.com/epilepsy-drugs-market-p.php
Specialty Pharmaceutical Market: https://www.renub.com/specialty-pharmaceutical-market-p.php
About Company:
Renub Research is a Market Research and Consulting Company. We have more than 10 years of experience especially in international Business-to-Business Researches, Surveys and Consulting. We provide wide range of business research solutions that helps companies in making better business decisions. We partner with clients in all sectors and regions to identify their highest-value opportunities, address their most critical challenges, and transform their businesses. Our wide clientele comprises of major players in Life Sciences, Information Technology, Telecom, Financial Services (Banking, Insurance), Energy, Retail, Manufacturing, Automotive, and Social sector. Our clients rely on our market analysis and data to make informed knowledgeable decisions. We are regarded as one of the best providers of knowledge. Our pertinent analysis helps consultants, bankers and executives to make informed and correct decisions.
Also Read: https://www.pressreleasepoint.com/global-diabetes-drug-market-will-be-us-7810-billion-2026-renub-research
Contact Us:
Renub Research
Phone No: +1 678-302-0700 (USA) | +91-120-421-9822 (IND)
Email: [email protected]
Web: https://www.renub.com
Follow on Linkedin: https://www.linkedin.com/company/renub-research
Media Contact
Company Name: Renub Research
Contact Person: Rajat Gupta
Email: Send Email
Phone: 16783020700
City: Roswell
State: GA
Country: United States
Website: www.renub.com/drugs-and-pharmaceuticals-13-c.php