Journey to Jumbalot by Ryan Wakefield is an Inspiring Middle Grade Fantasy about Building Self-Confidence and Overcoming Insecurity
Award-winning Author Ryan Wakefield combines talking animals, daring deeds, and enchanted worlds in the unforgettable fantasy adventure, Journey to Jumbalot.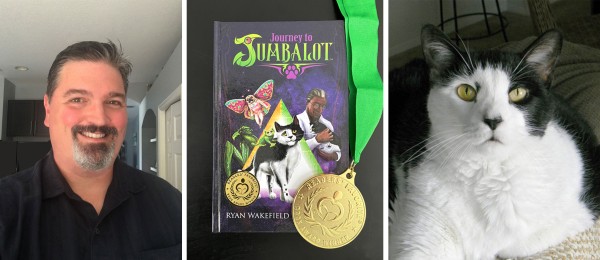 Journey to Jumbalot by Ryan Wakefield is a captivating middle-grade fantasy about a timid housecat named Alby who is thrust into a perilous new world in order to save his kind owner. Full of action and adventure, the book showcases how hybrid animals use their voice for good, speaking strongly of ingenuity, friendship, loyalty, and heroism. Transcending many genres including fiction, fantasy, myth, and legend, the book reminds young readers that self-confidence, compassion, and imagination can change our circumstances.
"I began writing Journey to Jumbalot immediately after losing my cat named Albert. His loss pushed me to fulfill my childhood dream of writing a fantasy novel. The main character, Alby the housecat, is based on Albert and is my way of honoring his memory," says author Ryan Wakefield. A multi-award-winning author with 20 years of experience as a graphic artist, Wakefield's goal was to breathe life into a new fantasy world that would inspire readers to believe in themselves, even against overwhelming odds. The result was a thought-provoking piece of work that pushed the boundaries of creativity, fantasy, and world-building. "I hope it teaches middle-grade readers the importance of self-confidence and overcoming insecurities."
The story opens with Alby, an unassuming housecat with no desire for adventure. Rescued by the kindly Professor Wizoom, Alby finds comfort in being safe and lazy. However, when Professor Wizoom vanishes through a magical door, the scaredy cat summons the little courage he has to save him. He finds himself transported into a strange land of hybrid animals where he joins forces with an irritating froguar to locate the Professor. But when he's mistaken for a spy, complications ensue putting him at the center of a war between evil wolvaraptor pirates and noble tigeroons. While Alby is initially doubtful of his own capabilities, he discovers that having compassion gives him the strength he needs to not only rescue his missing friend, but stand up to a tyrant terrorizing the world of Jumbalot.
The book weaves together several standout features that put it in a class of its own. Wakefield's writing is fast-paced and immediate, with many scenes that will keep readers on the edge of their seats. The protagonist, Alby, is a relatable role model that young readers will root for and be inspired by. In addition, themes of compassion, bravery, imagination, and believing in oneself tie the work together in a memorable way, showing that if you face challenges with confidence, you can accomplish more than you ever thought possible.
Journey to Jumbalot has received positive reviews from some of the most well-renowned literary organizations, authors, and reviewers around the world. Reviewer Susan B. writes, "Journey to Jumbalot is a dazzling kind of tale, full of action, adventure, rich and wild moments that are able to keep readers captivated until the very last minute. Utterly unique, wild, and rich, this book is a gem for children and adults."
With colorful prose, memorable characters and an inspiring message, Journey to Jumbalot offers a one-of-a-kind fantasy adventure. Available for sale on Amazon (ebook, paperback, hardcover, and audiobook), animal lovers and fans of spellbinding middle-grade fiction are encouraged to purchase their copy today: https://amzn.to/3u5MNuc
An audiobook version is currently in production and will be available via Audible in early spring.
Readers, parents, educators and book clubs are encouraged to visit the author's website for more information about the book and updates on new book releases: http://www.jumbalot.com
About the Author
Ryan Wakefield has worked primarily as a graphic artist for the last 20 years, but he always dreamt about creating a fantasy world young readers can escape to. Since grade school, he was fascinated with animal hybrids. He loved the idea of blending two or three animals together to create a magnificent new species. This fascination and his love for fantasy inspired him to fulfill his lifelong dream to breathe life into a new world middle-grade readers can explore – Jumbalot.
He's also the proud co-parent of a silly pug named Lily, and a sometimes-difficult feline named Rocky. The book's protagonist, Alby, is based on Ryan's first pet: an oversized black and white house cat named Albert. The only thing larger than Albert's appetite was his heart and he is sorely missed.
Ryan and his wife encourage everyone to open their hearts and their homes to adoptable pets.
Connect with Ryan Wakefield on Social Media:
https://twitter.com/RyJumbalot
https://www.instagram.com/ryjumbalot
https://www.facebook.com/RyJumbalot
Media Contact
Company Name: Author News Network
Contact Person: Media Relations
Email: Send Email
Country: United States
Website: authornewsnetwork.com