Active Pharmaceutical Ingredient Market Size, Latest Trends, Top Companies, Regions, COVID-19 Impacts and Growth Forecast to 2030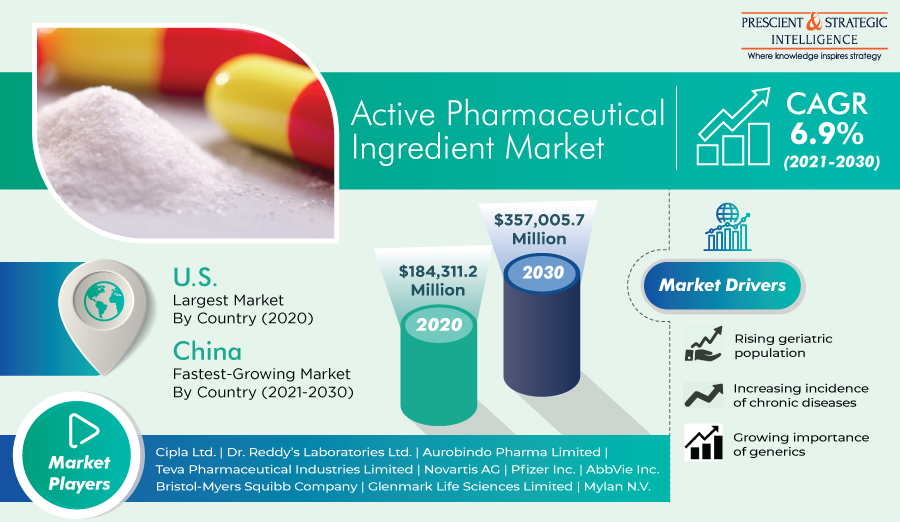 North America was the largest contributor to the active pharmaceutical ingredient market in 2020. This is mainly attributed to the surging incidence of chronic diseases, increasing government focus on generic drugs, rising demand for biologics and specialty drugs, and technological advancements in manufacturing processes of APIs, in the region.
The International Agency for Research on Cancer (IARC) states that 10 million cancer deaths and 19.3 million new cancer cases were recorded in 2020. As per the IARC, 1 in 5 people around the world develops cancer during their lifetime. Further, the World Health Organization (WHO) estimates that approximately 17.9 million human lives were lost due to cardiovascular diseases (CVDs) in 2019. Additionally, the WHO states that over 3 million people each year die of chronic obstructive pulmonary disease (COPD), accounting for over 6% of the global deaths.
The rising incidence of such chronic diseases is projected to propel the active pharmaceutical ingredient market at a CAGR of 6.9% during the forecast period (2021–2030). Additionally, P&S Intelligence states that the booming geriatric population will help the market revenue surge from $184,311.2 million in 2020 to $357,005.7 million by 2030. According to the United Nations Department of Economic and Social Affairs (UNDESA), the number of people aged 65 years or above will increase from 727 million in 2020 to around 1.5 billion by 2050.
Get the sample pages of this report at: https://www.psmarketresearch.com/market-analysis/active-pharmaceutical-ingredient-api-market/report-sample
Nowadays, captive and merchant manufacturers are producing generic and innovative APIs, which are available through online and offline channels. In contemporary times, innovative APIs are being used in higher quantities due to the mounting focus of pharmaceutical companies on developing new and more-effective medicines. In the coming years, captive manufacturers will emerge as the larger producer of APIs due to the stringent quality control and drug safety guidelines the pharma sector is subject to and the higher budgets captive companies possess for research and development (R&D).
The therapeutic application segment of the active pharmaceutical ingredient market is categorized into CVDs, communicable diseases, diabetes, oncology, pain management, respiratory diseases, and others. Among these, the oncology category held the largest market share in 2020, primarily on account of the high burden of cancer and extensive demand for highly potent APIs (HPAPIs) for cancer treatment. The WHO estimates that cancer caused approximately 10 million fatalities around the world in 2020. It also states that 1.93 million, 2.21 million, and 2.26 million people were diagnosed with colon and rectum, lung, and breast cancer, respectively, in 2020.
In recent years, pharma firms, such as Eli Lilly and Company, Mallinckrodt plc, Merck & Co. Inc., Lupin Limited, Johnson & Johnson, STADA Arzneimittel AG, AbbVie Inc., MSN Laboratories Pvt. Ltd., Novartis AG, Sun Pharmaceutical Industries Ltd., Pfizer Inc., AstraZeneca plc, and Sanofi, have been introducing new products, entering into collaborations and partnerships, and expanding their production capacities, to offer APIs to a greater number of customers. For example, in July 2021, Pfizer Inc. collaborated with Arvinas Inc. to develop and sell PROTAC estrogen receptor protein degrader ARV-471.
Browse detailed report on Global Active Pharmaceutical Ingredient Market Size and Growth Forecast to 2030
Globally, the North American active pharmaceutical ingredient market is expected to generate the highest revenue during the forecast period, owing to the rising burden of chronic diseases, mounting demand for specialty drugs and biologics, surging government focus on generic drugs, increasing technological advancements, and soaring number of R&D initiatives in the pharmaceutical industry. Moreover, the growing public awareness regarding numerous lifestyle-related diseases, such as diabetes, is expected to drive the API demand in the region.
Therefore, the soaring cases of chronic illnesses and growing aging population will fuel the usage of APIs globally.
Market Size Breakdown by Segment
By Type of Manufacturer
By Type
Generic APIs
Innovative APIs
By Type of Synthesis
By Type of Drug
Prescription Drugs
Over-The-Counter (OTC) Drugs
By Therapeutic Application
Communicable Diseases
Oncology
Diabetes
Cardiovascular Diseases (CVDs)
Pain Management
Respiratory Diseases
By Distribution Channel
By Region
North America
Europe

Germany
France
U.K.
Italy
Spain

Asia-Pacific

Japan
China
Indi
Australia
South Korea

Latin America
Middle East and Africa

Saudi Arabia
South Africa
Browse Other Related Reports
Generic Drugs Market – Globally, Asia-Pacific generated the highest revenue in the generic drugs market in 2019, and this trend is expected to continue in the coming years.
Psoriasis Drugs Market – Geographically, North America accounted for the largest share in the psoriasis drugs market during the historical period. This can be owed to the surging awareness about the newly developed drugs and rising per capita income in the region.
Media Contact
Company Name: P&S Intelligence
Contact Person: Abhishek
Email: Send Email
Phone: +918887787886
Address:Noida Sector 2
City: Noida
State: UP
Country: India
Website: https://www.psmarketresearch.com/market-analysis/active-pharmaceutical-ingredient-api-market