Taggbox Commerce Introduces TruSense – An AI-powered Smart Curation & Product Tagging Assistant
Taggbox Commerce brings advanced AI on board with the all-new TruSense, redefining UGC curation & product tagging for ecommerce brands.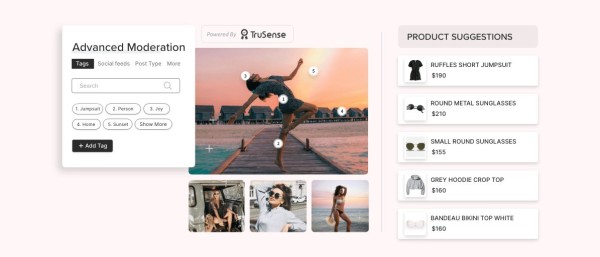 Leading social commerce platform Taggbox Commerce launches the AI-powered smart content curation and product tagging assistant TruSense for users to create flawless and robust UGC Ecommerce campaigns.
Artificial Intelligence & Machine Learning are gradually taking over the world, making things more fluid for the masses.
Megacorporations like Google, Amazon, and Apple are already abroad with AI, not to mention how the personal assistants Siri and Alexa have created a space in our lives. Well, we are certainly far from the era of self-driving cars, but one cannot deny that we are reaching there.
To keep up with the latest trends and serve clients with the best, Taggbox has introduced – TruSense – an artificially intelligent content curator and product tagging assistant with machine learning.
Taggbox Commerce has been serving ecommerce brands for years with its promising features enabling users to fetch UGC and visual content from social media and turn it into shoppable galleries using product tags. The users have been publishing result-driven shoppable galleries on their ecommerce stores to magnify results.
This latest addition by Taggbox Commerce has moved up the ladder of a perfect social commerce experience from the brands' end.
Taggbox Commerce users can now avail of the TruSense feature during the content curation and product tagging process for their online stores. TruSense plays a leading role while assisting brands and making the process much easier and fun, producing many opportunities and possibilities for users.
"TruSense by Taggbox Commerce is a promising introduction to the Taggbox Commerce dashboard. This AI comes equipped with many features like intelligent content filtering, product tagging assistance, automatic content curation, advanced moderation rules, seamless user experience, deeper content insights, smarter recommendations.
"Taggbox Commerce has set its foot on the Advanced-AI journey. It is just the inception; we have many more possibilities and horizons yet to reach!" – Neeraj Singal, CEO & Co-founder of Taggbox
TruSense: The Ideal Solution To The Commerce Jigsaw
TruSense sounds impressive, and many Taggbox Commerce users must be curious to know how it can enhance their experience. Well, here's how TruSense works well with Taggbox Commerce's features, providing a better experience and results with features like Shoppable UGC campaigns and Product Page Galleries.
TruSense AI eliminates the UGC reviewing step from the moderation panel. The AI instantly filters the UGC through "post tags" on the Taggbox Commerce dashboard when users choose certain keywords, making content curation much quicker.
Not only that, but the TruSense AI also identifies the products from the plethora of UGC collected and makes it seamless for users to tag the products with product tags.
About Taggbox Commerce
Taggbox Commerce is one of the leading social commerce platforms that serve commerce businesses to repurpose social content like UGC and other visuals, turn it into Shoppable Galleries with product tags and add it to their ecommerce stores. Taggbox Commerce is a comprehensive platform for brands to enrich the ecommerce experience, boost conversions, revenue & brand growth.
Visit – https://taggbox.com

Contact [email protected] to schedule a demo with Taggbox today.
Visit us on social media:
Media Contact
Company Name: Taggbox
Contact Person: Neeraj Singal
Email: Send Email
Phone: +1 628-900-3005
Country: United States
Website: https://taggbox.com/