COVID-19 Pipeline Insight, 2021 by DelveInsight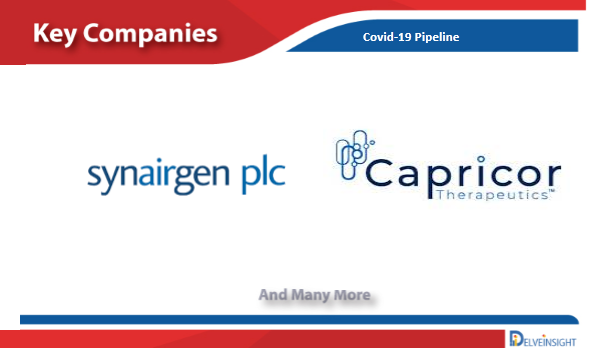 DelveInsight's, COVID-19 Pipeline Insight, 2021," report provides comprehensive insights about 400+ companies and 400+ pipeline drugs in COVID-19 pipeline landscape. It covers the pipeline drug profiles, including clinical and nonclinical stage products. It also covers the therapeutics assessment by product type, stage, route of administration, and molecule type. It further highlights the inactive pipeline products in this space.
COVID-19 Overview
Coronavirus disease (COVID-19) is an infectious disease caused by the most recently discovered corona virus, severe acute respiratory syndrome coronavirus 2 (SARS-CoV-2). The disease causes respiratory illness (like the flu) with symptoms such as a cough, fever, and difficulty breathing. Most people infected with the COVID-19 virus will experience mild to moderate respiratory illness and recover without requiring special treatment. Elderly people and those with underlying medical problems like cardiovascular disease, diabetes, chronic respiratory disease, and cancer are more likely to develop serious illness. The COVID-19 virus is primarily transmitted through droplets of saliva or discharge from the nose when an infected person coughs or sneezes. People can catch COVID-19 if they breathe in droplets from a person with COVID-19 who coughs out or exhales droplets. It also spreads when a person touches a surface or objects that has the virus on it, and then touches their eyes, nose, or mouth.
Download free sample copy- https://www.delveinsight.com/sample-request/covid-19-pipeline-insight
List of regions covered in the report
List of COVID-19 companies involved in the report
Uni-Pharma Kleon Tsetis Pharmaceutical Laboratories S.A.
TC BioPharm
Syntax for Science, S.L
Shaperon
Renibus Therapeutics
Quercis Pharma
Pharmenterprises
And many others
"COVID-19 – Pipeline Insight, 2021" report by DelveInsight outlays comprehensive insights of present scenario and growth prospects across the indication. A detailed picture of the COVID-19 pipeline landscape is provided which includes the disease overview and COVID-19 treatment guidelines. The assessment part of the report embraces, in depth COVID-19 commercial assessment and clinical assessment of the pipeline products under development. In the report, detailed description of the drug is given which includes mechanism of action of the drug, clinical studies, NDA approvals (if any), and product development activities comprising the technology, COVID-19 collaborations, licensing, mergers and acquisition, funding, designations and other product related details.
COVID-19 Pipeline Report Highlights
The companies and academics are working to assess challenges and seek opportunities that could influence COVID-19 R&D. The therapies under development are focused on novel approaches to treat/improve COVID-19.
REGN-COV2: Regeneron Pharmaceuticals
Bucillamine: Revive Therapeutics
Mupadolimab (CPI-006): Corvus Pharmaceuticals
VERU‑111: Veru Inc.
Sarconeos (BIO101): Biophytis
Leronlimab: CytoDyn
Tocilizumab: Hoffmann-La Roche
And many others
COVID-19 Phases
Late stage products (Phase III)
Mid-stage products (Phase II)
Early-stage product (Phase I) along with the details of
Pre-clinical and Discovery stage candidates
Discontinued & Inactive candidates
Route of Administration
COVID-19 Pipeline Development Activities
The report provides insights into different therapeutic candidates in phase II, I, preclinical and discovery stage. It also analyses COVID-19 therapeutic drugs key players involved in developing key drugs.
Download free sample copy- https://www.delveinsight.com/sample-request/covid-19-pipeline-insight
Table of Content
Introduction
Executive Summary
COVID-19: Overview
Pipeline Therapeutics
Therapeutic Assessment
Late Stage Products (Phase III)
REGN-COV2: Regeneron Pharmaceuticals
Mid Stage Products (Phase II)
CNM-ZnAg: Clene Nanomedicine
Early Stage Products (Phase I)
SIR1-365: Sironax
Preclinical and Discovery Stage Products
SB019: Novan
Inactive Products
COVID-19 Key Companies
COVID-19 Key Products
COVID-19- Unmet Needs
COVID-19- Market Drivers and Barriers
COVID-19- Future Perspectives and Conclusion
COVID-19 Analyst Views
COVID-19 Key Companies
Appendix
COVID-19 Report Insights
COVID-19 Pipeline Analysis
Therapeutic Assessment
Unmet Needs
Impact of Drugs
COVID-19 Report Assessment
Pipeline Product Profiles
Therapeutic Assessment
Pipeline Assessment
Inactive drugs assessment
Unmet Needs
About Us
DelveInsight is a Business Consulting and Market research company, providing expert business solutions for life science vertical and offering quintessential advisory services in the areas of R&D, Strategy Formulation, Operations, Competitive Intelligence, Competitive Landscaping, and Mergers & Acquisitions.
Media Contact
Company Name: DelveInsight Business Research LLP
Contact Person: Yash Bhardwaj
Email: Send Email
Phone: +919650213330
Address:304 S. Jones Blvd #2432
City: Las Vegas
State: NV
Country: United States
Website: https://www.delveinsight.com/