Paint Cans Market CAGR Projected to Grow at 4.0% Through 2028 – Future Market Insights
Paint Cans Market: Europe, with South & East Asia, to Account for a Combined Share of over 3/5th of Global Revenue in 2019: Global Industry Analysis 2013 – 2017 and Opportunity Assessment 2018 – 2028
The global paint cans market was valued at US$ 4.2 Bn in 2018, and is projected to register modest growth during the next ten years. As indicated by a new report presented by Future Market Insights (FMI), sustained demand for paint cans within construction and wall décor segments will continue to push paint can sales at a steady pace over the years to come.
High Recyclability Quotient Sustains Metal Paint Can Sales
Paint cans are widely used to store paint. In fact, they are the most dominant form of packaging solution used for paint. Metal paint cans are generally preferred due to their high recyclability. However, there are certain factors associated with convenience, which could hamper the growth in the adoption of metal paint cans. These include problems such as rusting of paint cans, which can damage the paint inside.
Moreover, most metal paint cans are tightly sealed, and spill paint when opened with force. The paint spilling out of paint cans can stick to the surface. On the other hand, plastic paint cans can be easily decorated and have better compatibility with printing, which is taken advantage of, by paint can manufacturers.
Download the sample copy of Report @ https://www.futuremarketinsights.com/reports/sample/rep-gb-6677
Paint Cans Continue to Witness Steady Traction, Construction & Wall Decor Key Revenue Generation Areas
Since a significant chunk of the demand for paint cans is generated by the construction sector, there is a demand for packaging solutions with high capacity. This is fulfilled by plastic containers and pails which have a capacity of well over 5000 ml. Several 5 gal containers of latex-paint sold in the market come in plastic containers. Plastic pails and bulk containers lead to reduced weight of the packaging, ensuring user convenience. The high demand for rigid plastic pails in the construction sector could, to some extent, hamper the growth of the global paint cans market.
The building and construction sector is expected to witness solid growth in the coming years, especially in high growth countries such as Brazil, India, and China. Also, the increasing number of new construction projects, as well as a number of households, is expected to boost the growth of the wall paint market, which, in turn, is anticipated to represent lucrative opportunities for the global paint cans market during the forecast period.
Paint Consumption Sees an Upsurge in Developing Asian Economies, Pushing Sales of Paint Cans
The South & East Asia paint cans market is expected to represent significant revenue growth opportunity during the forecast period. The high rate of urbanization, rise in the number of single person households, and robust growth of the building & construction industry is expected to generate significant demand for paint cans during the forecast period. Therefore, the manufacturers of paint cans are eyeing the South & East Asia region to pursue rightsizing of their supply chains to accommodate high growth countries in the region.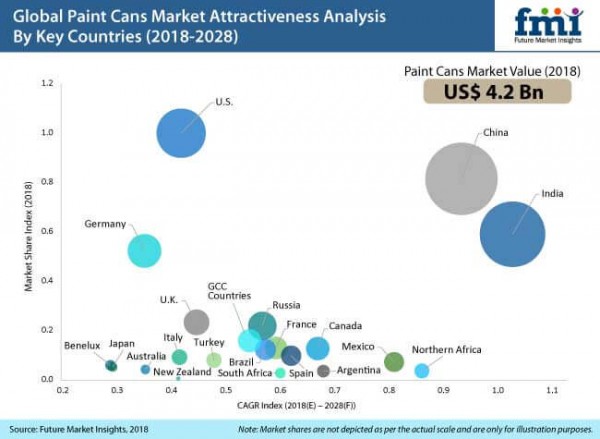 China is expected to generate the maximum incremental $ opportunity for the paint cans market by the end of the forecast period. Strong economic growth of India is the key driver for the local paint industry. India's paint consumption has been registering double-digit figures for the past few years, making it highly attractive in terms of growth rate of the paint cans market.
The continuous expansion of the building & construction industry in countries such as Indonesia, Thailand, South Korea, and Japan, is likely to represent an enormous growth opportunity for the paint cans market during the forecast period. Overall, South & East Asia regions are projected to witness a notable growth rate of the paint cans market throughout the forecast period.
For any Queries Linked with the Report, Ask an [email protected] https://www.futuremarketinsights.com/ask-question/rep-gb-6677
Competition Landscape: Global Paint Cans Market
The FMI report includes a detailed competition landscape, which includes profiles and assessment of paint can manufacturers operating in the global paint cans market. Key manufacturers of paint cans profiled include – Ardagh Group, S.A., Ball Corporation, RPC Group Plc., Silgan Containers LLC, Kian Joo Can Factory Berhad, Colep Portugal, S.A., BWAY Corporation (MAUSER Packaging Solutions), National Can Industries Pty. Ltd., Allied Cans Limited, Aaron Packaging, Inc., Allstate Can Corporation, Lancaster Containers, Inc., Baltic Packaging A/S, Envases Universales Group, P. Wilkinson Containers Ltd., Sarten Ambalaj Sanayi Ve Ticaret A.S., and KW Plastic Inc.
Table Of Content
1. Executive Summary
1.1. Global Paint Cans Market Outlook
1.2. Demand Side Trends
1.3. Supply Side Trends
1.4. Our Analysis and Recommendations
2. Market Overview
2.1. Market Coverage
2.2. Market Scope
3. Key Market Trends
3.1. Key Trends Impacting the Market
3.2. Product Development Trends
4. Key Success Factors
4.1. Product Adoption Analysis
4.2. Building & Construction Sector Growth
4.3. Key Industry Perspectives
4.4. Cost Structure Analysis: Contribution of Cost Components in the Production of Paint Cans
4.5. Porter's Five Forces Analysis
5. Global Paint Cans Market Demand Analysis 2013-2017 and Forecast, 2018 – 2028
Download Complete TOC Of this Report @ https://www.futuremarketinsights.com/toc/rep-gb-6677
About Us
Future Market Insights (FMI) is a leading provider of market intelligence and consulting services, serving clients in over 150 countries. FMI is headquartered in London, the global financial capital, and has delivery centres in the U.S. and India. FMI's latest market research reports and industry analysis help businesses navigate challenges and take critical decisions with confidence and clarity amidst breakneck competition.
Media Contact
Company Name: Future Market Insights
Contact Person: Abhishek Budholiya
Email: Send Email
Phone: +442076928790
Address:3rd Floor, 207 Regent Street
City: London
Country: United Kingdom
Website: https://www.futuremarketinsights.com/reports/paint-cans-market