Artist Darrio gets his career breakthrough with his new song "Chisel it"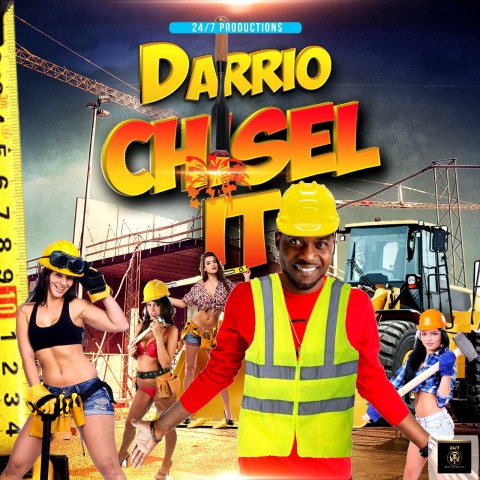 Jamaican artist Darrio has announced the release of his latest track "Chisel it" featuring groovy beats, a cool video featuring an explicit version in addition to the regular one. The music video is shot on a construction site that goes perfectly well with the theme of the song. Born in Deeside Trelawny, Darrio moved to Kingston at the age of 7, shuffling between cities like Allman town, red Hills and Franklyn Town before finally settling down with his mother in Harbour view. Darrio's parents had a strong background in music which also inspired him to have a career in music. He has always been a part of concerts, parties, and musical events throughout his school days. He went on to participate in community events and national competitions that further assured him of his talent as a musician.
Darrio is known for his energetic and interactive performances regardless of the audience size. He won over the crowds in various competitions like the Sting Star Maker and Guinness Undisputed, which led him to perform on a major stage show at Sting 2005. He was rapidly moving towards his career goal but due to some circumstances, he had to give up music and focus on doing a 9 to 5 job. In 2007, veteran Dj Pappa Biggy introduced Darrio to Richard Burt of Nocturnal Productions where he recorded and released his first official track titled 'Shub Out' laced with riveting social commentary. Darrio and Burt came across Natural Bridge Studio that was housing great talents like Tifa, Timberlee, Ward 21, Natalie Storn and budding stars like Konshens.
Darrio's hard work began to amortize as he released numerous hit singles along his journey including "Do Di Ting" on the Go-Go club riddim "Hooked on You" produced by Ricky G for Vertex productions, both collaborations with Konshens, and a street-friendly, hard-hitting song on the sanction riddim titled 'Touch Di Road'.
The year 2010 proved to be productive for the assiduous artist as his popularity grew locally and in the Caribbean Diaspora, also in Asia and Europe. He completed two successful tours that year, first in Japan followed by a European tour where he performed in countries like Germany, Switzerland, Italy, and Austria to name a few. Darrio's music and ever charismatic character propelled him to popularity across the African Continent, with performances in Kenya in 2011 and Uganda a couple months later, where his stellar performance was well accepted and appreciated by his fans at both concerts.
He further went on to his first performance as event headliner in San Pedro, Belize April 2011; with a follow up being the headline act for a popular concert in Corozal City, Belize in April 2013. With his musical reservoir overflowing with inspiration, Darrio added more hits to his catalog including 'School Fee' 'Gyal Siddung' featuring Konshens 'Fed up' and 'Hurry up' which all received substantial radio rotation locally and Internationally. The subsequent years went well for Darrio as his buzz in the streets and popularity grew, affording the opportunity to travel extensively while demonstrating his craft.
In January 2017 he put on the cap of the promoter for the third time staging his annual Birthday Celebration in his hometown (Deeside Trelawny). In March of the same year, he did a three weeks tour of Belize, performing in Cayo, Punta Gorda, Belize City, and Orange walk. After returning to Jamaica, Darrio was contracted to be a part of the RJR Cross-country Tour were he continued to demonstrate his stage dominance.
In May of the same year Darrio toured Europe for the second time, performing in Finland, Austria, Germany, Switzerland and Sweden. Israel was also included in that tour which lasted for six weeks. The year 2017 is to date one of the most successful in Darrio's music career; he ended the year having recorded his debut EP titled 'The Preliminary' and is currently doing shows across Jamaica to promote the Nine Track project.
His latest single Chisel it is available on all major platforms including Spotify.com and iTunes.
Media Contact
Company Name: 24/7 Music Production
Contact Person: Darrio Johnson
Email: Send Email
Country: Jamaica
Website: 247musicproduction.com